Celery with Apricot Blue Cheese Spread
Recipe Image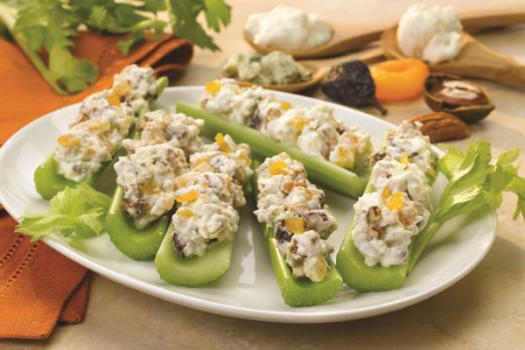 Preparation Time:
15 minutes
Crunchy, sweet celery is a versatile snack food, just right for this flavorful spread. Filled with dried fruit and nuts, this enticing and quick low-fat spread can be made ahead or on the spot. You could also serve it on whole grain crackers as an appetizer.
Ingredients
2 tablespoons crumbled blue cheese
3 tablespoons fat-free cream cheese
1/2 cup fat-free yogurt

(plain)

4 dried apricots
4 dried figs or dates
1/4 cup pecans
8 stalks celery
Directions
Chop dried fruit and pecans.
Mix blue cheese, cream cheese, and yogurt with a fork or hand mixer until smooth.
Stir in chopped, dried fruit and pecans. Refrigerate spread until ready for use.
Slice celery stalks into 3-4 inch sticks.
Fill celery pieces with spread.
Notes
Tips on how to select, store, and serve celery:
Choose straight, rigid celery stalks with fresh leaves. Avoid pithy, woody, or limp stalks.
Refrigerate in a plastic bag for a week or more.
Add chopped celery stalks and celery leaves to your soups, stews, and casseroles for extra nutrition, flavor, and crunch.
Add diced celery to your favorite tuna, chicken, egg, or vegetable salad recipe for extra texture.
Cut-up celery for a flavorful addition to healthy stir-fry dishes.
Learn more about:
Source:
Produce for Better Health Foundation