Recipe Image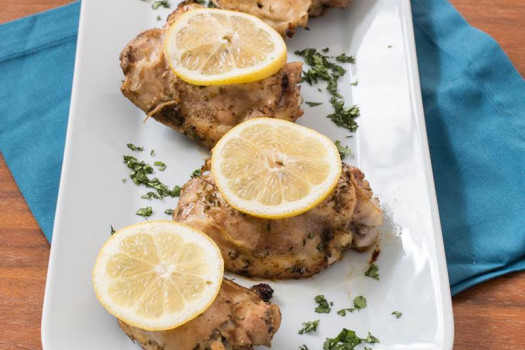 Preparation Time:
20 minutes
Chicken thighs are coated in oregano, cumin, and lime juice and oven baked until tender and golden brown.
Ingredients
4 6-ounce chicken thighs

(bone-in)

2 teaspoons dried oregano
1 teaspoon ground cumin
2 tablespoons fresh lime juice

(about 1 lime)

1/2 teaspoon Kosher salt
1/4 teaspoon black pepper
1 orange, sliced

(optional, for garnish)
Directions
Preheat the oven to 425 °F.
To trim the chicken, lay the chicken thighs on the cutting board, skin side up. Press down on the chicken to push out the excess fat. Use a sharp knife to cut excess fat.
Put the chicken, oregano, cumin, lime juice, salt, and pepper in the bowl and mix well. Proceed to the next step or cover and refrigerate up to overnight.
Put the contents of the bowl in the baking pan and transfer to the oven.
Bake about 1 hour until cooked throughout and well browned.
Serve right away.
Notes
Source:
USDA Center for Nutrition Policy and Promotion