Rainbow Bell Pepper Boats with Garbanzo Beans and Kale
Recipe Image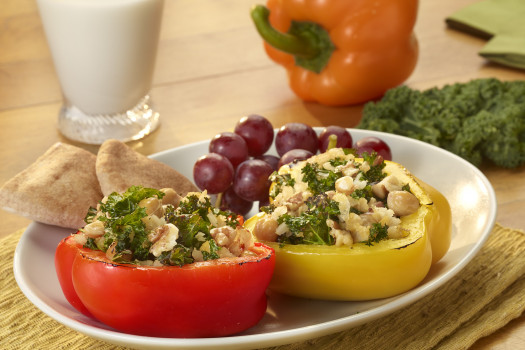 Red, orange, and yellow bell peppers stuffed with garbanzo beans, kale, walnuts, and brown rice make a delicious Mediterranean-influenced vegetarian dish.
Ingredients
2 cups instant brown rice

(cooked)

4 medium bell peppers

(red, yellow, and orange)

2 cups kale

(chopped)

1 can 15 oz garbanzo beans, unsalted
1/2 cup walnuts

(chopped)

1/4 teaspoon salt
1/8 teaspoon pepper
Directions
Preheat oven to 375 °F.
Cook rice according to package directions.
Slice bell peppers in half vertically and remove seeds.
Reserve about half of garbanzo beans; mash remaining portion with a fork.
Mix rice with kale, garbanzo beans (mashed and whole), nuts, salt, and pepper.
Fill peppers with mix; place in baking dish and cover.
Bake about 30 minutes.
Remove lid and bake more 5 more minutes.
Source:
Produce for Better Health Foundation