Roasted Brussels Sprouts, Potatoes, and Chicken
Recipe Image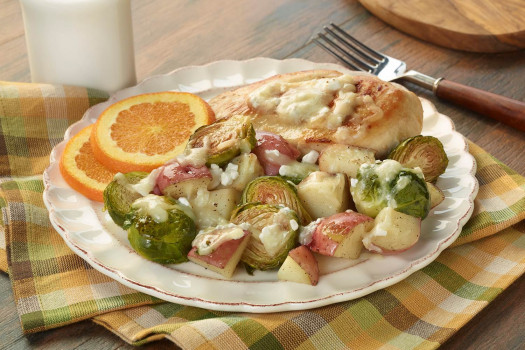 A versatile fall baked dish, our tasty version features potatoes and Brussels sprouts, but other fall vegetables, such as parsnips, carrots, and cabbage could be substituted.
Ingredients
3 cups brussels sprouts

(fresh or frozen halved vertically, about 3/4 pound)

4 small red potatoes

(cut into chunks)

1/2 cup chopped onion
2 cloves garlic

(minced)

2 tablespoons olive oil
1/4 teaspoon salt
1/8 teaspoon pepper
1/2 cup non-fat ricotta cheese

(or cottage cheese)

1/4 cup Part-skim mozzarella cheese

(shredded)

2 tablespoons non-fat milk
1 pound boneless chicken breast

(4 portions)
Directions
Preheat oven to 325 degrees Fahrenheit.
In a 2 quart baking dish coated with cooking spray, toss Brussels sprouts, potatoes, onion, and garlic with 1 T olive oil, salt, and pepper.
In a small bowl, mix cheese with milk.
Coat chicken breasts with remaining olive oil.
Nest among vegetables in baking dish.
Top with cheese mix.
Cover with foil and bake for 40-45 minutes or until chicken is done.
Notes
Serve with 8oz non-fat milk and orange slices.
Source:
Produce for Better Health Foundation