Zesty Pasta Primavera Salad
Recipe Image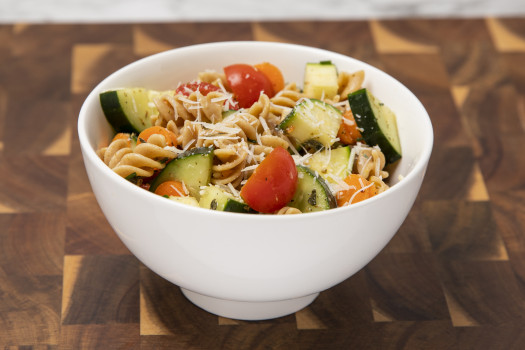 Whole grain rotini and colorful vegetables elevate this pasta salad! Add canned chicken or tuna for a complete meal.
Ingredients
2 cups whole grain rotini pasta, uncooked¹
3 tablespoons vegetable oil
3 tablespoons lemon juice
2 1/2 teaspoons Italian seasoning
1/8 teaspoon red pepper flakes
1 1/2 cups cucumber, chopped
1/2 cup cherry tomatoes, halved
1/2 cup carrots, sliced
1/4 cup red onion, minced
3 tablespoons Parmesan cheese
¹Other types of whole grain pasta may be used in place of the whole grain rotini.
Directions
Wash hands with soap and water.
1. Cook pasta according to the package directions.
2. Drain and set aside.
3. In a large bowl, whisk oil, lemon juice, Italian seasoning, and red pepper flakes.
4. Add cooked pasta, cucumber, tomato, carrots, red onion, and Parmesan cheese to the dressing.
5. Mix well and chill for 2 hours before serving.
Source:
Recipe adapted from Chickasaw Nation Nutrition Services, Get Fresh Initiative