Apple Cranberry Salad Toss
Recipe Image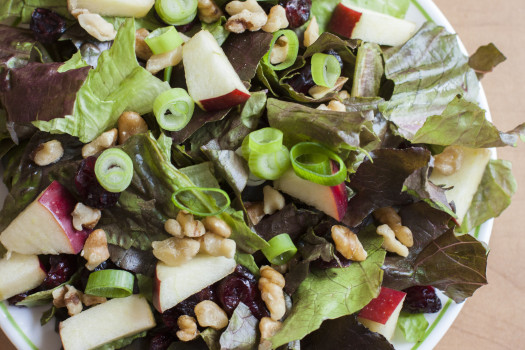 Enjoy the best of fall flavors with this sweet and tart green salad. Light yet crisp, it's a perfect dish for the autumnal change of weather.
Ingredients
1 head of lettuce

(about 10 cups)

2 apples

(medium, sliced)

1/2 cup walnuts

(chopped)

1 cup dried cranberries
1/2 cup green onion

(sliced)

3/4 cup vinaigrette dressing
Directions
Wash hands with soap and water.
Toss lettuce, apples, walnuts, cranberries, and onions in a large bowl.
Add dressing; toss to coat. Serve immediately.
Source:
Creative Recipes for Less Familiar USDA Commodities Used by Household Programs
USDA, Food and Nutrition Service, Food Distribution Service