Recipe Image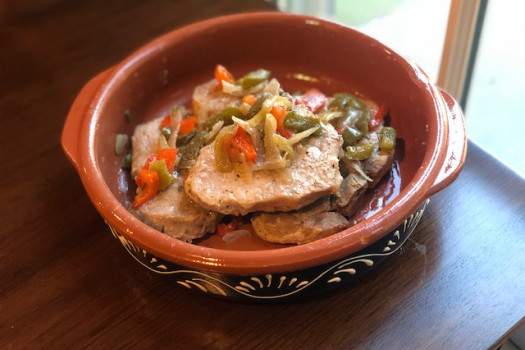 Green and red peppers top these festive pork chops.
Ingredients
6 pork chops

(lean center-cut, 1/2-inch thick)

1 onion

(medium, thinly sliced)

1/2 cup green pepper

(chopped)

1/2 cup red pepper

(chopped)

1/8 teaspoon black pepper
1/4 teaspoon salt
Directions
Wash hands with soap and water.
Trim fat from pork chops. Place chops in a 13x9 inch baking pan.
Spread onion and peppers on top of chops. Sprinkle with pepper and salt. Refrigerate for 1 hour.
Preheat oven to 375 °F.
Cover pan and cook 30 minutes.
Uncover, turn chops and re-cover with onions and peppers, and continue cooking for an additional 15 minutes or until internal temperature reaches 145 °F.
Garnish with fresh parsley.
Source:
Heart Healthy Home Cooking: African American Style
US Department of Health and Human Services
National Heart, Lung, and Blood Institute