Recipe Image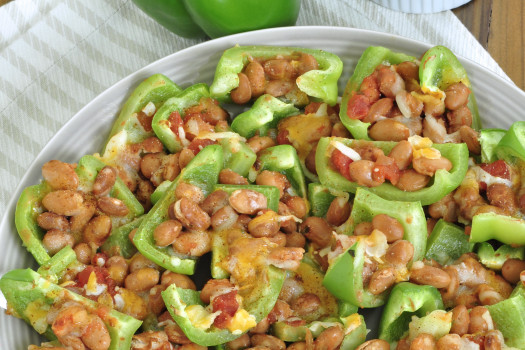 Preparation Time:
5 minutes
Try this deliciously different way to use bell peppers. Use any color of peppers and any type of beans.
Ingredients
4 bell peppers
1 cup salsa
2 teaspoons seasoning

(try a mixture-chili powder, garlic powder, ground cumin, pepper)

2 cups cooked chicken, shredded or chopped

(or beans or tofu -- or try a combination)

3/4 cup cheddar cheese, shredded
Directions
Wash hands with soap and water.
Preheat oven to 350 °F.
Wash bell peppers, remove seeds and cut into bite-sized pieces. Arrange pieces close together in a single layer on a large foil-lined baking sheet.
In a medium bowl, combine salsa, seasonings and meat, beans or tofu. Spoon the mixture evenly over pepper pieces. Top with cheese.
Bake for 15 minutes, or until peppers are heated through and cheese is melted. Serve warm.
Source:
Food Hero
Oregon State University Cooperative Extension Service