Cheesy Broccoli & Rice Squares
Recipe Image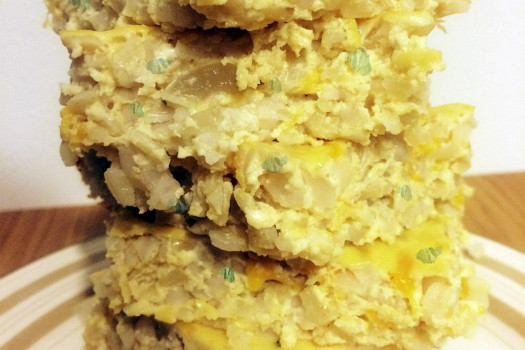 This kid-friendly side dish, packed with whole grains and low-fat dairy, is perfect for busy weeknights. These squares reheat well as leftovers, an added bonus!
Ingredients
1 cup low-fat cheddar cheese

(shredded)

1 cup broccoli

(chopped)

3 cups brown rice

(cooked)

1/2 cup fresh parsley

(chopped)

1/4 cup onion

(chopped)

1/2 teaspoon salt
3 eggs

(beaten)

1 1/2 cups evaporated milk, reduced fat (2%)
1 teaspoon Worcestershire sauce
2 sprays of nonstick cooking spray
Directions
Wash hands with soap and water.
Preheat oven to 350 °F and coat a 9x9 inch baking pan with nonstick cooking spray.
In a bowl, combine the brown rice, cheese, onion, broccoli, parsley, and salt.
In a separate bowl, combine the eggs, Worcestershire sauce, and evaporated milk. Pour over rice mixture. Mix well.
Pour into the 9x9-inch baking dish.
Bake until just firm, about 35 to 40 minutes. Cut into squares to serve.
Source:
Recipe adapted from Commodity Supplemental Food Program Cookbook