Chicken Salad with Ramen Noodles
Recipe Image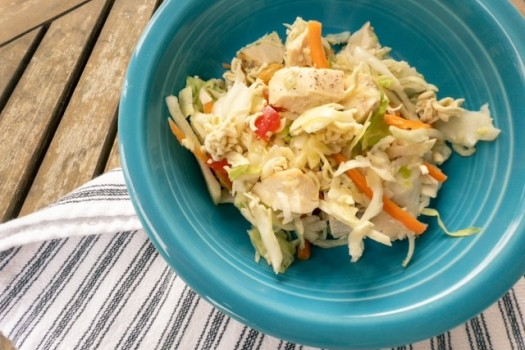 Use up a large head of cabbage from the farmers' market or grocery store with this recipe. The bell pepper and green onions bring a variety of flavors while the chicken and peanuts add protein.
Ingredients
1 package Ramen noodles, 3 ounces

(any flavor)

8 cups cabbage

(shredded, or cabbage salad mix)

1/4 cup scallions

(minced)

1 cup bell pepper

(red or green)

2 chicken breast

(cooked and chilled, cut into cubes)

1/2 cup peanuts

(dry roasted, unsalted)
Salad Dressing:
2 teaspoons sugar
2 tablespoons olive oil
1/2 cup vinegar

(rice or white wine)

1 teaspoon Ramen noodle flavor packet
Directions
Wash hands with soap and water.
Break up noodles. Set aside.
In a small bowl make dressing with sugar, vinegar, olive oil, and flavor packet. Stir well.
In a large bowl, add peppers, scallions, unsalted peanuts, and other vegetables if you like. Add cooked chicken and cabbage.
Pour on the dressing and combine. Sprinkle noodles on top.
Serve cold.
Source:
Farm Fresh Summertime Recipes
Connecticut Food Policy Council