Recipe Image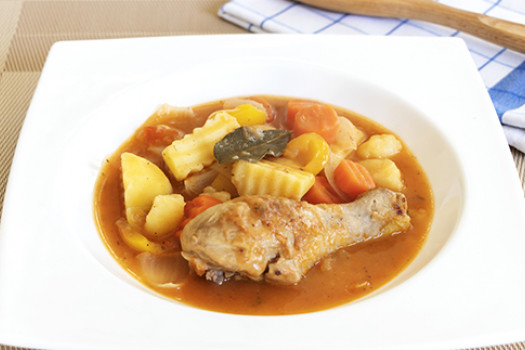 This classic stew can be made on the stove top and cooked in less than an hour. The vegetables and chicken make it a filling meal by itself.
Ingredients
8 chicken breasts
1 cup water
2 garlic cloves

(small, minced)

1 onion

(medium, chopped)

1 1/2 teaspoons salt
1/2 teaspoon black pepper
3 tomatoes

(medium, chopped)

1/3 tablespoon parsley

(1 teaspoon, chopped)

1/4 cup celery

(finely chopped)

2 potatoes

(medium, peeled and chopped)

2 carrots

(medium, chopped)

2 bay leaves
Directions
Wash hands with soap and water.
Remove the skin from the chicken and any extra fat. In a large skillet combine chicken, water, garlic, onion, salt, pepper, tomatoes, and parsley. Tightly cover and cook over low heat for 25 minutes.
Add celery, potatoes, carrots, and bay leaves and continue to cook for 15 minutes or until chicken and vegetables are tender. Remove bay leaves before serving.
Source:
A Healthier You: Based on the Dietary Guidelines for Americans
US Department of Health and Human Services
Office of Disease Prevention and Health Promotion