Couscous with Peas and Onions
Recipe Image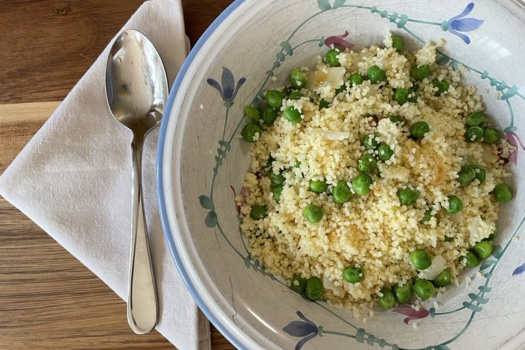 Couscous is cooked with sage, peas, and onions for a savory side dish. Look for couscous or whole grain couscous in the aisle near the rice.
Ingredients
1 cup onion

(finely chopped)

1/2 teaspoon sage

(ground)

1 teaspoon olive oil
1 1/3 cups water
1 cup green peas

(frozen)

1 cup couscous
salt

(1/2 teaspoon, optional)
Directions
Wash hands with soap and water.
Combine oil and onions in heavy skillet.
Sauté for 5 to 10 minutes until lightly browned.
Add the peas, sage, water, couscous, and salt if desired.
Cover and cook on low for about 5 minutes or until peas are tender but still bright green and all of the water is absorbed.
Fluff with fork.
Source:
CHOICES: Steps Toward Health
UMass Extension Nutrition Education Program