Recipe Image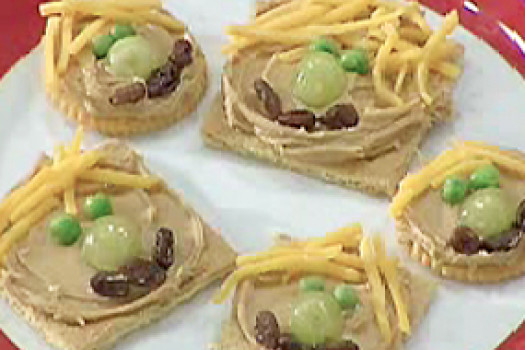 Let your kids create their own funny face using ingredients from all five MyPlate food groups.
Ingredients
1 tablespoon peanut butter
1 graham cracker

(large, or use whole grain or saltine crackers)

1 tablespoon cheddar cheese

(shredded)

3 raisins
2 peas

(large green)

1/2 grape

(cut in half)
Directions
1. Spread peanut butter on a cracker in the shape of a face.
2. Sprinkle grated cheese at top for hair.
3. Place raisins on cracker for mouth.
4. Use peas for eyes and 1/2 grape for nose.
Notes
This snack is intended for children over age two. Do not serve to younger children who may choke.
Source:
Kids a Cookin'
Kansas Family Nutrition Program