Recipe Image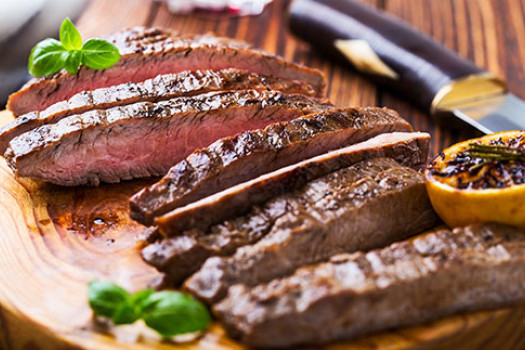 Prepare this marinated beef the night before, and have dinner on the table in less than half an hour!
Ingredients
1/4 cup onion

(chopped)

2 tablespoons parsley
2 tablespoons white vinegar
3 teaspoons prepared mustard
1/4 teaspoon garlic powder
1/4 teaspoon basil, dried (or thyme)
1 pound boneless beef chuck shoulder steak, cut 1-inch thick
Directions
1. Mix onion, parsley, vinegar, mustard, garlic powder and basil or thyme.
2. Place meat in plastic bag and pour in marinade.
3. Close bag securely, place in a bowl and marinate in refrigerator six to eight hours or overnight, turning at least once.
4. Pour off marinade and discard. Place meat on rack in broiler.
5. Broil 15 to 20 minutes or until desired doneness, turning once.
6. Cut into thin slices to serve.
Source:
Missouri Nutrition Network, Eat for Health Toolkit