Recipe Image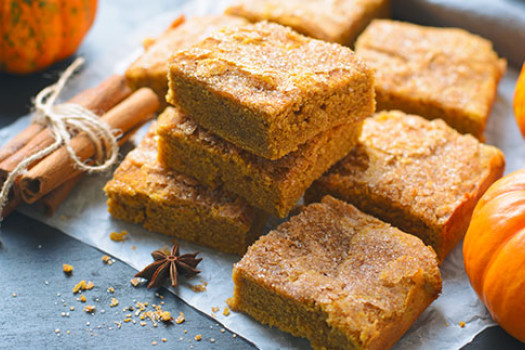 Enjoy the scents and flavors of autumn, all year round with this delicious baked treat!
Ingredients
1/3 cup dry milk, non-fat
2 cups flour

(all purpose)

1 teaspoon baking soda
2 1/2 teaspoons cinnamon
1/2 teaspoon cloves
1/2 teaspoon allspice
1/2 teaspoon nutmeg
1/3 cup vegetable oil
2/3 cup honey
1/2 cup orange juice
2 tablespoons orange peel

(grated)

2 eggs
1 cup pumpkin

(mashed)
Directions
Wash hands with soap and water.
Preheat oven to 350 °F. Lightly grease or spray with non-stick spray a 12x15 inch baking pan with sides.
In a small bowl, combine dry milk, flour, baking soda, and spices. Set aside.
In a large bowl, thoroughly mix oil, honey, juice, peel, eggs, and pumpkin.
Gradually add flour mixture to pumpkin mixture, stirring until smooth.
Spread batter onto prepared baking pan. Bake for 15 to 20 minutes, or until golden brown and cake springs back when lightly touched with your finger. Cool. Cut into squares.
Source:
Montana State University Extension Service
Nutrition Education Program