Recipe Image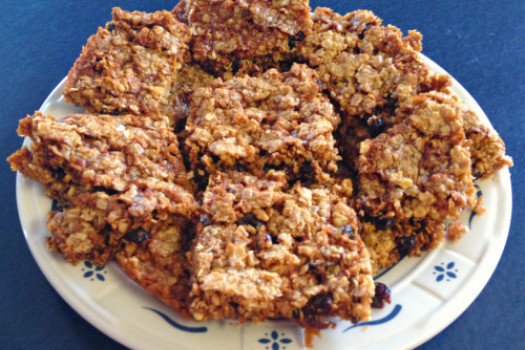 A cruchy and sweet dessert that everyone will love, can be made in minutes! This recipe makes 30 servings, and leftovers freeze well!  The quick oats in this recipe add texture and fiber to this delicious dessert.
Ingredients
1/2 cup margarine or butter
3/4 cup brown sugar

(firmly packed)

1 teaspoon vanilla
1/2 teaspoon baking soda
2 cups quick oats

(uncooked)

1 cup raisins
Directions
1. Preheat oven to 350 degrees and grease a 9 x 13 inch baking pan.
2. In large skillet, melt butter and brown sugar.
3. Remove from heat and stir in remaining ingredients.
4. Spread into pan and bake for 15 - 20 minutes. Cool; cut into squares.
Source:
Creative Recipes for Less Familiar USDA Commodities Used by Household Programs (recipe)
USDA Food and Nutrition Service
Food Distribution Service
Cook it QUICK! (photo)
University of Nebraska Cooperative Extension