Recipe Image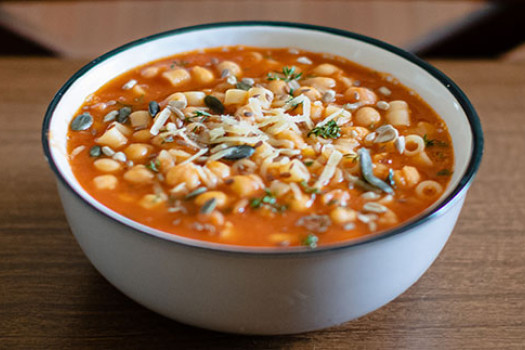 This savory soup is packed with tomatoes, green beans, and chickpeas. The recipe also doubles easily if leftovers are desired or if you are making it for a large group.
Ingredients
3 1/2 cups chicken broth, fat-free, low sodium
1 cup water
1 3/4 cups macaroni

(dry)

1/2 teaspoon celery flakes

(or onion powder)

1/2 teaspoon oregano
1 cup stewed tomatoes, low-sodium
1 cup green beans
1 can chickpeas, low-sodium

(garbanzo beans)

1/4 teaspoon garlic powder
Directions
Wash hands with soap and water.
In a large saucepan, bring broth and water to a boil. Reduce heat to low.
Add macaroni, celery flakes, and oregano. Simmer 4 minutes, stirring occasionally.
Add stewed tomatoes, green beans, chick-peas (drained), and garlic powder.
Simmer 5 minutes, or until macaroni and beans are tender.
Source:
University of Connecticut Family Nutrition Program
Senior Nutrition Awareness Project (SNAP) Newsletters