Marinated Three-Bean Salad
Recipe Image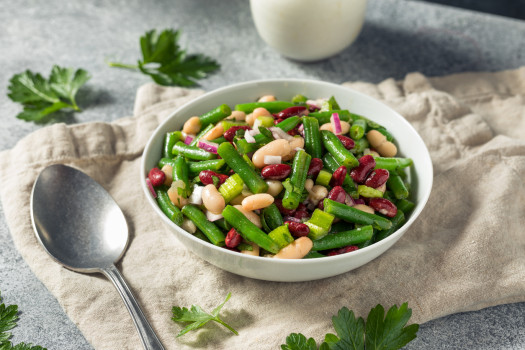 Cook Time:
1 hour 10 minutes
Beans, celery and onion make for a delicious marinated salad that the whole family will enjoy. Try it with our Lite Italian Dressing.
Ingredients
1 can cannellini (white) beans

(15 ounce)

1 can cut green beans

(8 ounce)

1 can red kidney beans

(8 ounce)

1 onion

(medium, chopped)

1/2 cup celery

(chopped)

8 ounces Italian salad dressing

(fat-free)
Directions
1. Wash hands with soap and water.
2. Drain the canned beans.
3. Peel and chop the onion.
4. In a large bowl, combine the cannellini beans, green beans, kidney beans, onion, and celery.
5. Pour the Italian dressing over the vegetables and toss lightly.
6. Cover the bowl and marinate in the refrigerator for at least one hour. The salad can be left in the refrigerator over night.
7. Drain before serving.
Notes
Garnish with parsley if desired.
Source:
Texas Cooperative Extension Expanded Nutrition Program
The Texas A&M University System