Microwave Potato Corn Chowder
Recipe Image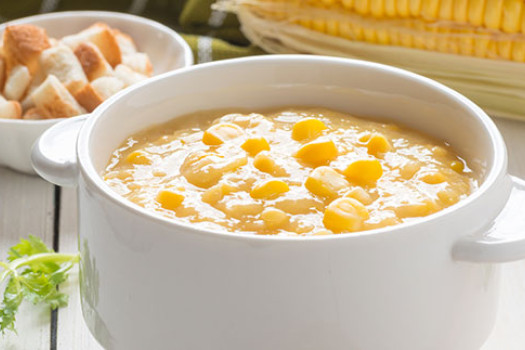 Make this tasty soup in your microwave in minutes. Enjoy it with a fresh salad and a side of fruit for a light meal.
Ingredients
1/4 cup margarine

(or butter)

1/4 cup flour

(all purpose)

1/4 teaspoon salt
1/8 teaspoon pepper
2 cups milk, 1%
2 potatoes

(peeled and diced)

1 can corn

(16 ounce, drained)
Directions
1. Melt margarine in glass bowl on HIGH for 30 to 50 seconds.
2. Stir in flour, salt and pepper until smooth.
3. Blend milk into flour-margarine mixture.
4. Cook on HIGH for 6 to 8 minutes, until thickened, stirring well each minute. Set aside
5. In a separate microwave safe bowl, cook 2 potatoes in 1 cup water. When potatoes are done add potatoes and cooking water to
white sauce.
6. Stir in 1-16 ounce can of corn. Cook 2 to 3 minutes or until steaming hot.
Notes
Shredded cheese, crumbled bacon, chopped ham or onion may be added. Add clams for clam chowder.
Source:
Montana State University Extension Service