Recipe Image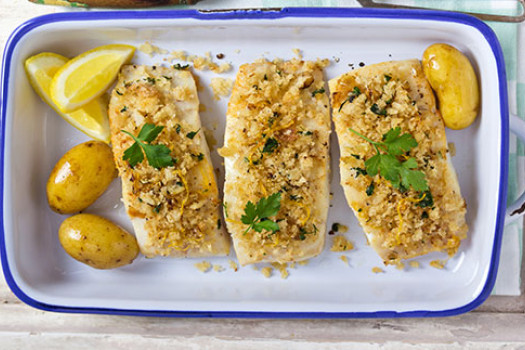 Oven fried fish pairs well with fresh summer vegetables or hearty root vegetables in the winter. 
Ingredients
1 egg

(slightly beaten)

salt

(optional, 1/2 teaspoon)

1/2 teaspoon ground black pepper
1 pound tilapia fillets, fresh or thawed

(4 fillets)

1/2 cup bread crumbs
1 tablespoon butter, melted
fresh lime or lemon

(sliced, optional)
Directions
Wash hands with soap and water.
Preheat oven to 350°F.
In a small bowl, add egg, salt (if desired), and pepper and beat together.
Place the bread crumbs in a separate bowl. Dip fish fillets in the egg mixture, then dip in the bread crumbs to coat.
Melt butter in a shallow 9x13 inch baking pan for 1 minute in the oven. Tilt pan to coat with butter. 
Arrange fish fillets in the pan.
Bake uncovered for 15-20 minutes, until fish flakes easily with a fork. Serve topped with lime or lemon slices (optional).
Notes
Source:
Colorado State University and University of California at Davis. Eating Smart Being Active Recipes.