Recipe Image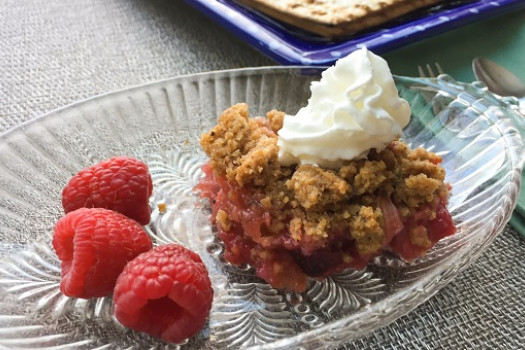 Passover is a Jewish holiday observed in the springtime, but this fruity and delectable dessert is good any time of the year.
Ingredients
1 3/4 cups sugar, divided
1/4 cup tapioca, quick-cooking
4 cups rhubarb pieces, 1/2-inch
1 cup raspberries, unsweetened
2 tablespoons lemon juice
1 cup matzo meal
1 stick of butter (or margarine), unsalted

(1/2 cup)

1/8 teaspoon ground nutmeg
lemon sorbet or whipped cream

(optional)
Directions
Wash hands with soap and water.
In a shallow 2-quart baking dish, combine 1 1/4 cups sugar and tapioca. Add rhubarb, raspberries, and lemon juice - mixing gently but thoroughly. Let stand from 15 minutes to one hour to soften tapioca, mixing several times.
Meanwhile, in a food processor or a bowl, whirl or rub together with your fingers the matzo meal, the remaining 1/2 cup sugar, margarine, and nutmeg to create fine crumbs.
Squeeze matzo mixture to compact into lumps, then crumble over rhubarb mixture.
Baked in a 375 °F oven until cobbler is bubbling in center and top is golden brown, about 1 hour. Let cool 15 minutes.
Spoon cobbler into bowls and top with sorbet or whipped cream (optional).
Source:
Prairie Fare
North Dakota State University Extension Service