Recipe Image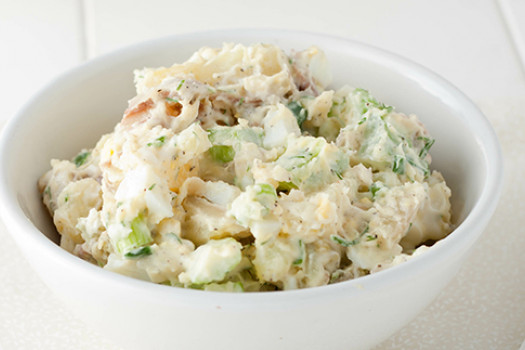 Perfect for your next cookout or picnic, this simple potato salad will be enjoyed by your friends and family.
Ingredients
4 potatoes

(about 1 pound)

1 cup onion

(diced)

1/2 cup celery

(chopped)

1/2 cup mayonnaise, low-fat
1/4 cup sweet pickle relish
Directions
Wash hands with soap and water.
Scrub the potatoes, and peel them.
Cut the potatoes into 1-inch cubes.
Put the potatoes into a saucepan. Cover with water.
Bring the potatoes to a boil on medium heat.
Let the potatoes simmer for 15 minutes until they're soft.
Drain the hot water, and let the potatoes cool.
While the potatoes are cooling, peel and chop some onions until you have 1 cup of chopped onions.
Chop the celery until you have 1/2 cup of chopped celery.
Put the chopped onion and celery in a medium mixing bowl.
Add the mayonnaise and pickle relish. Stir together.
Add the cooled potatoes. Stir again.
Cover the bowl. Put in the fridge for at least 2 hours before serving.
Notes
Source:
Pennsylvania Nutrition Education Network