Quick Chicken & Vegetable Soup
Recipe Image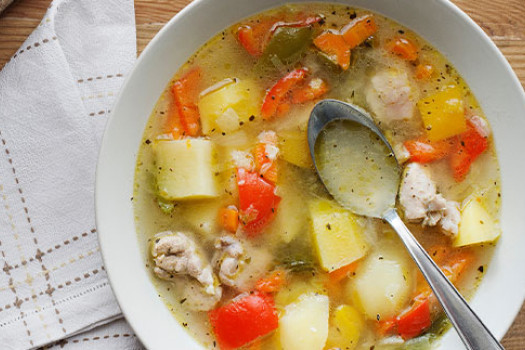 A great way to use properly stored and handled leftover chicken. Using frozen veggies helps cut down prep time.
Ingredients
1 tablespoon onion

(chopped)

1 can tomatoes

(14.5 ounce, broken up)

1 cup potatoes

(cut in pieces)

2 cups chicken broth, low-sodium

(14.5 ounce can)

1/2 cup chicken, cooked and chopped
1 package mixed vegetables

(10 ounce frozen)

1/4 teaspoon thyme
1/8 teaspoon ground black pepper
1/8 teaspoon salt
Directions
Use only cooked chicken for this recipe.
Wash hands with soap and water.
Put the tomatoes, potatoes and broth in the pot. Cook on medium heat until they boil.
Add the onion. Turn the heat to low, and simmer for 10 minutes.
Add the remaining ingredients.
Cover the pan.
Cook for at least 5 more minutes over low heat until vegetables are tender.
Source:
Pennsylvania Nutrition Education Network