Recipe Image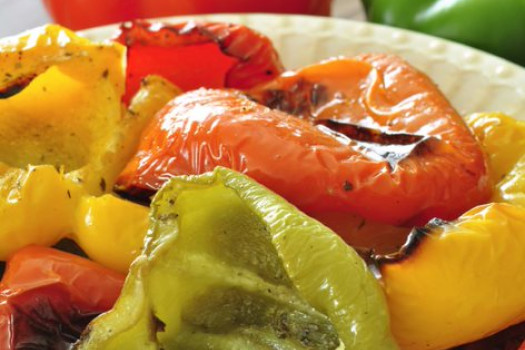 Preparation Time:
5 minutes
Roasting brings out the natural sweetness of the bell peppers. Modify this recipe by trying other seasonings, such as oregano or dried basil.
Ingredients
4 bell peppers
2 teaspoons vegetable oil
1/2 teaspoon Italian seasoning
1/2 teaspoon garlic powder
1/4 teaspoon salt
1/4 teaspoon black peppeer
Directions
Wash hands with soap and water.
Preheat oven to 450 degrees F.
Wash bell peppers and remove tops and seeds. Cut peppers in half and rub with vegetable oil. Place cut side up on a rimmed baking sheet and sprinkle with Italian seasoning, garlic powder, salt and pepper.
Roast until peppers are tender and blistered in spots, about 30 to 35 minutes.
Notes
No Italian seasoning? Use 1 teaspoon dried oregano, 1 teaspoon dried basil and ½ teaspoon garlic powder.
Learn about bell peppers.
Source:
Food Hero
Oregon State University Cooperative Extension Service