Recipe Image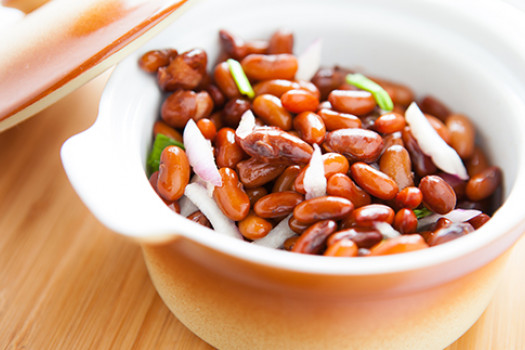 Savory simmered beans are simple and satisfying. Enjoy as a side to your favorite entrée.
Ingredients
2 cups beans, dried - pinto, black, or pink

(rinsed)

8 cups water
1 onion

(chopped)

1 bay leaf
1/4 teaspoon salt
Directions
Wash hands with soap and water.
Place beans, water, onion, and bay leaf in a large pot.
Cover and bring to a boil over high heat.
Reduce heat to low. Simmer for 1 to 1 1/2 hours or until beans are tender.
Remove bay leaf and stir in salt. Cook 15 minutes longer.
Top each serving of simmered beans with 1/2 cup fresh salsa, or store beans in refrigerator for up to 3 days in a covered plastic or glass container.
Source:
Healthy Latino Recipes Made with Love
California Department of Health Services
California Latino 5-A-Day Campaign