South of the Border Salad
Recipe Image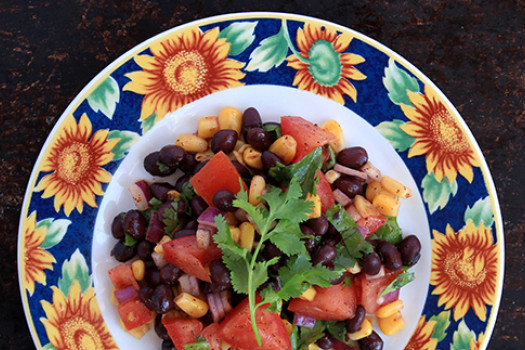 Make this corn, black bean, and tomato salad in the morning and let it marinate in the refrigerator all day and enjoy it for dinner.
Ingredients
3 cups corn, low sodium

(drained and rinsed)

2 cans black beans

(15.5 ounces each, drained and rinsed)

1 can diced tomatoes with green chilies

(10 ounces)

1 onion

(medium, chopped)
Dressing Ingredients:
3 tablespoons olive oil

(or canola oil)

1/3 cup lemon or lime juice
1/2 teaspoon pepper
ground cumin

(1 teaspoon, optional)
Directions
Wash hands with soap and water.
Mix the salad ingredients in a large bowl.
Mix the dressing ingredients in a small bowl.
Pour dressing over corn mixture and mix well.
Cover and refrigerate for at least 2 hours.
Source:
2009 Recipe Calendar
University of Maryland Extension
Food Supplement Nutrition Education Program