Recipe Image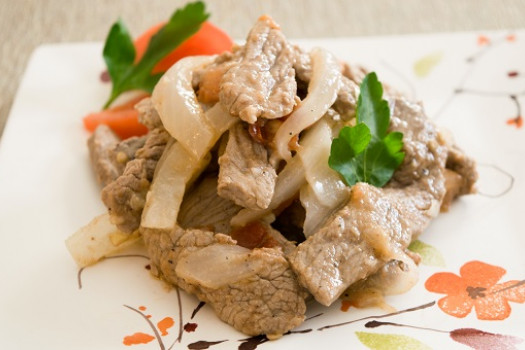 Enjoy this quick and tasty meal on a cold winter night. Add spinach, steamed in the microwave as well as an apple or orange to serve on the side.
Ingredients
1 1/2 pounds steak

(sirloin)

2 teaspoons vegetable oil
1 garlic clove

(minced)

1 teaspoon vinegar
1/8 teaspoon salt
1/8 teaspoon ground black pepper
2 onions

(large, sliced)

1 tomato

(large, sliced)

3 cups potatoes

(boiled, diced)
Directions
1. Trim fat from steak and cut steak into small, thin pieces.
2. In a large skillet, heat oil and sauté garlic until garlic is golden.
3. Add steak, vinegar, salt, and pepper. Cook for 6 minutes, stirring beef until brown.
4. Add onion and tomato. Cook until onion is transparent. Serve with boiled potatoes.
Source:
Delicious Heart-Healthy Latino Recipes/ Platillos Latinos Sabrosos y Saludables
US Department of Health and Human Services
National Heart, Lung, and Blood Institute