Vegetable and Turkey Stir Fry
Recipe Image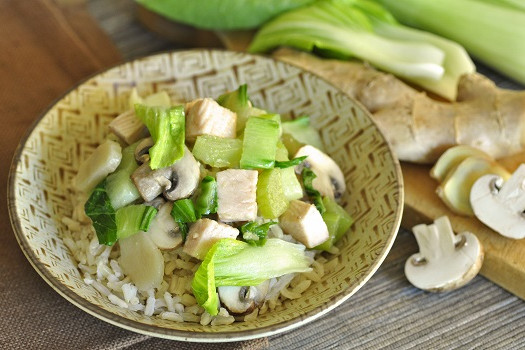 Cooked turkey combined with your favorite frozen veggies means you can throw this stir fry together quickly for a healthy weekday dinner.
Ingredients
1 tablespoon vegetable oil
1/2 teaspoon salt
2 thin slices of ginger root

(minced)

1 garlic clove

(peeled and minced)

16 ounces turkey

(cooked, cut into 1/2 inch cubes)

1/2 teaspoon sugar
2 packages vegetables, fresh or frozen

(10 ounce package, chopped)

water

(optional)
Optional Gravy
1 tablespoon cornstarch
2 teaspoons soy sauce, low sodium
1/2 cup chicken stock
Directions
Wash hands with soap and water.
Heat fry pan. Add oil and heat on high temperature.
Add ginger, garlic, turkey and vegetables. Stir fry about 1 minute to coat with oil.
Adjust heat to prevent scorching. Add sugar. If vegetables are tender, stop cooking at this time.
If the vegetables are firm, add 1-2 tablespoons of water, cover and cook for 2 minutes or until tender.
Serve at once, or if you wish to add a gravy:
Mix the gravy ingredients well, pour over vegetables and turkey, cook for 30 seconds.
Source:
Food Hero
Oregon State University Cooperative Extension Service