Prepare Healthy Meals
Use these tips to save time when cooking. Visit MyPlate Kitchen to find tasty and budget-friendly recipes.
Image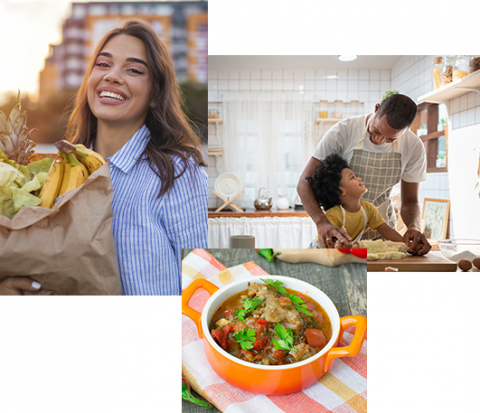 Kitchen Timesavers
Try these kitchen timesavers to cut back on time and make less work for you.
Organize your kitchen.
Keep items you use most often, like cooking oils/sprays, spatulas, cutting boards, and spices within easy reach. This will save you from having to search for them later.
Clear the clutter.
Before you start cooking, clear off your counters. This allows more room for prep space.
Chop extra.
When chopping up veggies for a meal, chop more than you need. Take the extra and freeze them for later. Then next time you need them, you can skip a step.
Have everything in place.
Grab all ingredients needed for your meal at the same time. It will be easier to spot missing items and avoid skipping steps.
Double your recipe.
For your next dish, try doubling the recipe and freezing the extra. You'll save time and make cooking next week's dinner a snap!
Clean as you go.
Fill up the sink with soapy water and wash the dishes as you cook. It'll make clean up go much smoother!
Save some for later.
Freeze leftover soups, sauces, or gravies in small reusable containers. 
Cooking for Your Family
There are simple ways to prepare foods for a large family without spending a lot of money. Try these tips to save time, money, and stress when making meals for friends or family.
1
Keep it simple.
Healthy and creative meals don't have to be hard to make. A simpler menu often costs less and will be easier to make.
2
Allow your family to help.
Divide jobs among family members. Remember that kids love being in the kitchen! As a team, you can get more done and have more time to enjoy with your family. 
3
Stretch recipes by adding other food items.
Get more servings out of your favorite recipes! Add rice to soups or stews, frozen vegetables to pasta dishes, or beans to burgers. This can help you serve more meals.
4
Ideas for the holidays.
Try having a holiday brunch. Breakfast foods like eggs are inexpensive and make a great protein for the main dish. You can also try a yogurt parfait bar and let everyone add their favorite toppings.
5
Have a potluck.
Potlucks are a great option for large families or groups of friends. If you are hosting a meal, fix the main dish and ask the rest of the group to make side dishes. It creates less work for you and allows everyone to make and sample each other's creations.