Celebrate National Nutrition Month® with #CelebrateMyPlate
National Nutrition Month® 2022 has ended. This page is now for historical reference.
National Nutrition Month® is an annual campaign created by the Academy of Nutrition and Dietetics. During the month of March, everyone is invited to learn about making informed food choices and developing healthful eating and physical activity habits. This year's theme, Celebrate a World of Flavors, embraces global cultures, cuisines and inclusivity, plus showcases the expertise of registered dietitian nutritionists. #nationalnutritionmonth
National Nutrition Month® Weekly Key Messaging
Week Five: Put It All Together
Eat a variety of nutritious foods. 

See a Registered Dietitian Nutritionist (RDN).

Plan your meals and snacks. 

Create tasty foods at home. 
Show Us YOUR Plate
Do you enjoy snapping photos of your colorful dinners? If so, join our social media campaign to show the world just what YOUR plate looks like!
Every dish has an origin or a story of how it came to be. Around the world, foods and flavors are combined in wonderfully different ways for various reasons -- like nourishment, joy, comfort, and more. Those origins are also often tied to culture or rooted in ancestral foods. In America, the availability of that variety and richness is what makes each of our plates unique.
What foods, flavors, and recipes are you, your family, your friends known for? And how do they fit into your healthy eating style? Use the hashtag #CelebrateMyPlate to show us your plate and let's celebrate a "world of flavors" together!
Plates from the MyPlate Staff
Yes, we are real people! And several of us here at the USDA Center for Nutrition Policy and Promotion contributed to this campaign to share some background into our own versions of MyPlate. Enjoy!
Image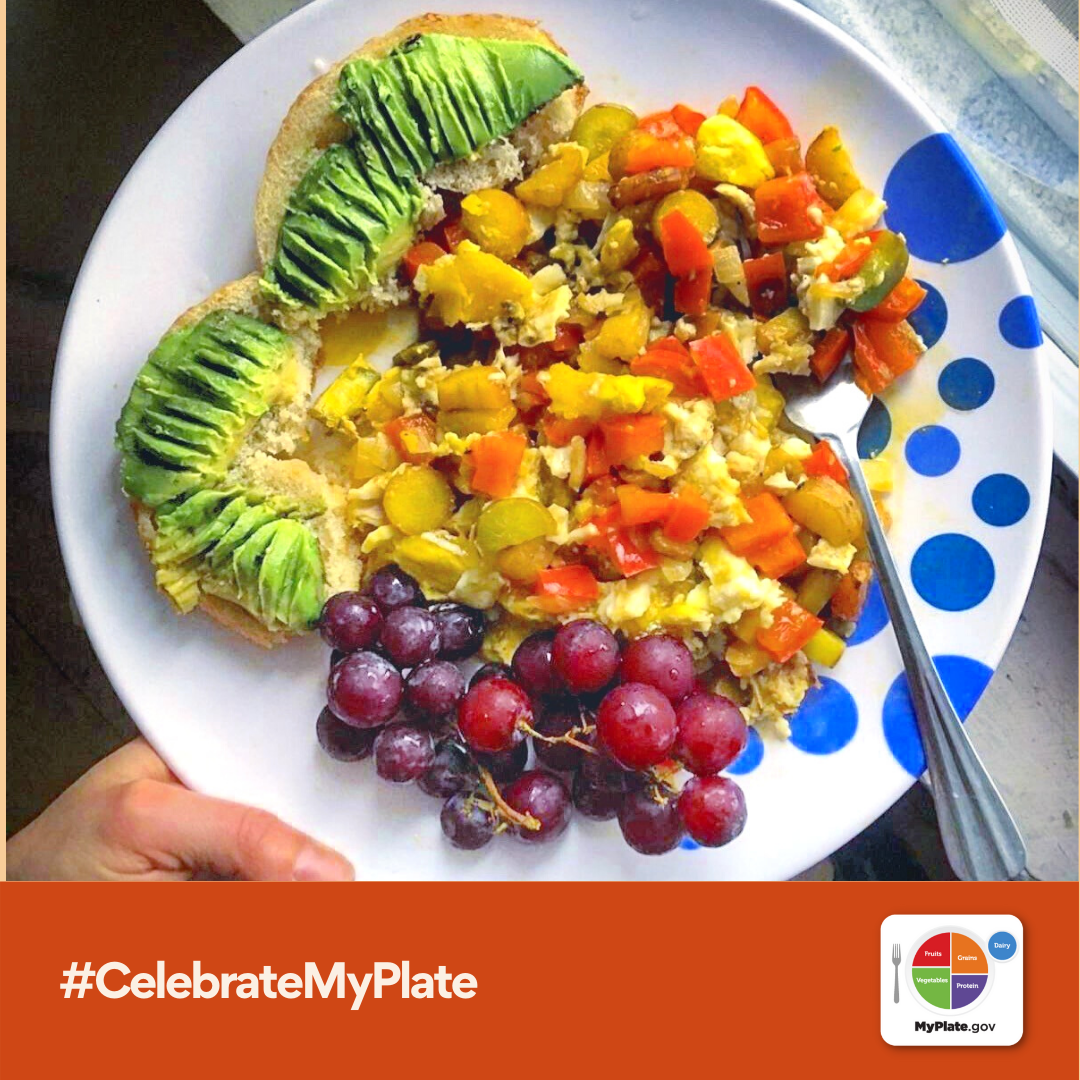 For a colorful brunch on the weekend, I love to mix eggs in with some veggies and serve them with sides of fruit and grains. Here I added sautéed rainbow carrots and bell peppers to my scrambled eggs. Eggs are such an amazing food because they are packed with protein and loads of vitamins and minerals. They are also so versatile and can be used in a variety of dishes from all over the world.
– Sara, Nutritionist
Image
I really like looking at online recipe websites (like MyPlate Kitchen) to get inspiration. Long ago, I found a recipe for an Indian chicken coconut curry. I made some modifications by using soy chicken and also doubling some of the spices and, voilà, one of my favorite dishes was born!
– Dave, Webmaster
Image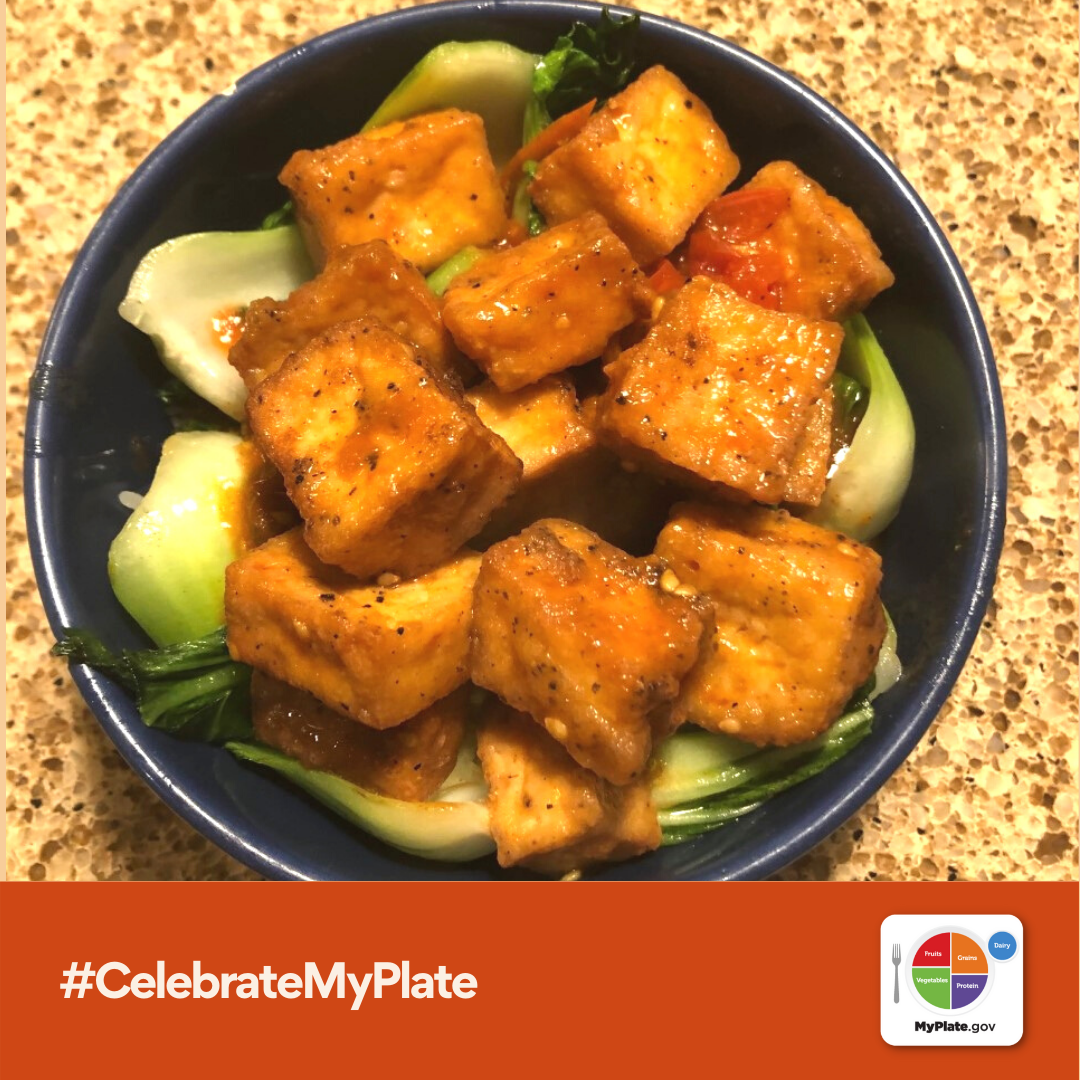 This vegetarian dish is easy-to-make and loaded with lots of Southeast Asian flavors, like fish sauce, tofu with tomato sauce all served over bok choy and rice. It's definitely home cooking and not like anything I've ever seen on a restaurant menu.
– Molly, Librarian
Image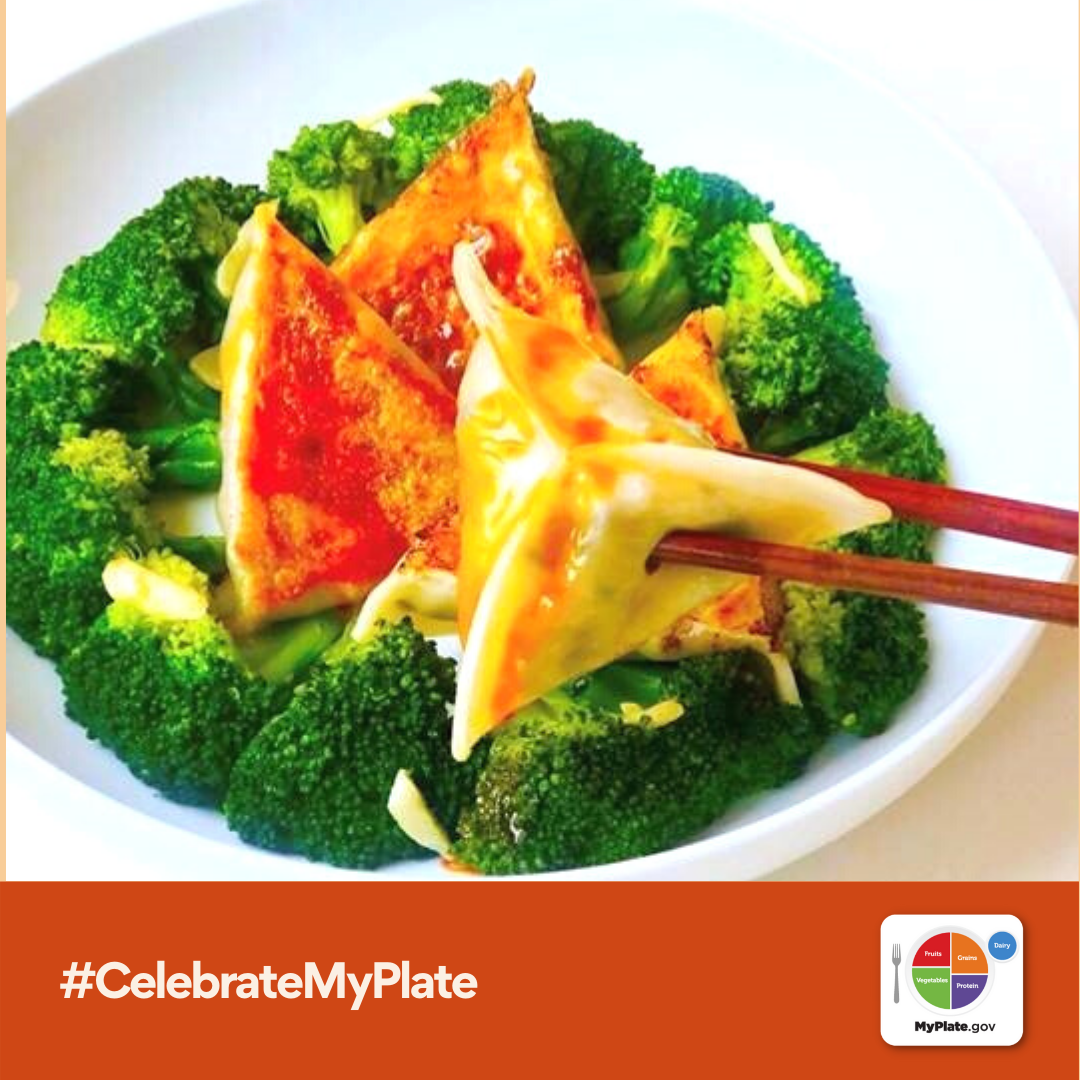 Chinese dumplings are one of my go-to comfort foods. I like to keep a stash of homemade ones like these in my freezer for busy nights. They're quick to cook and go great with garlic-broccoli. Pure comfort and goodness in under 20 minutes. (And yes, sometimes I spear my dumplings!)
– Stephenie, Senior Policy Advisor 
Image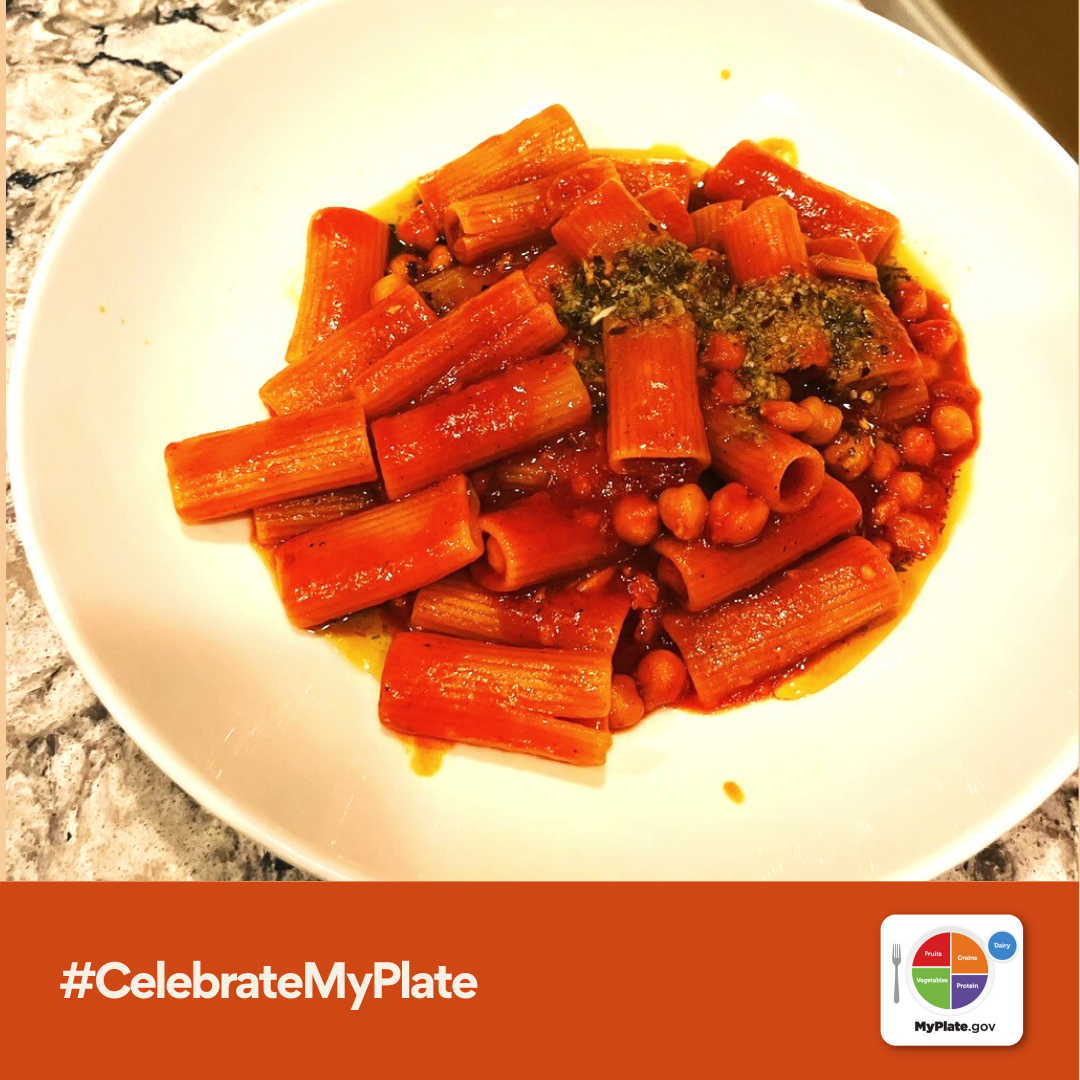 Potlucks are great opportunities to expand your food horizons. Many years ago I had a Southern Italian dish of pasta, chickpeas, and pesto that was so flavorful. My friend shared her recipe with me and I continue to make this regularly.
– Shiela, Senior Operations Manager
Image
My Korean-American neighbor was the first to introduce me to fermented cabbage known as "kimchi," which I really love! Since then, I have added other Asian-inspired dishes to my regular meals, such as 5-spice tofu and veggies.
– Betty, Administrative Assistant
Image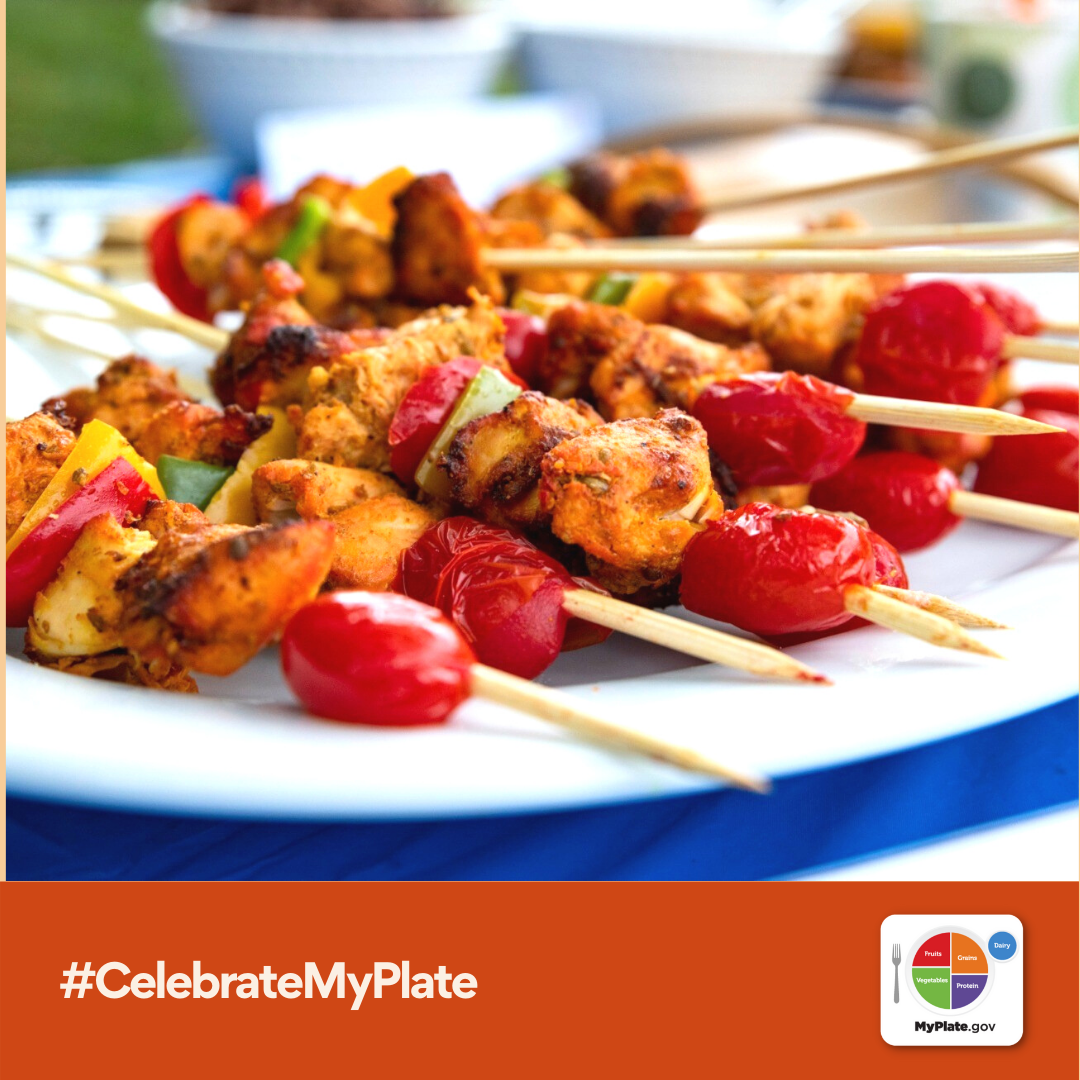 For the past couple of years, my neighborhood has had an International potluck to celebrate its diversity. All of the families bring dishes representing their cultural heritage. Cuisines were shared from across the globe, including France, England, Ukraine, Japan, Iran, Afghanistan, as well as various regions of the U.S., and more. Kebabs are traditional in many Middle Eastern countries, these were made with spiced chicken, tomatoes and bell peppers.
– Liz, Nutritionist
Image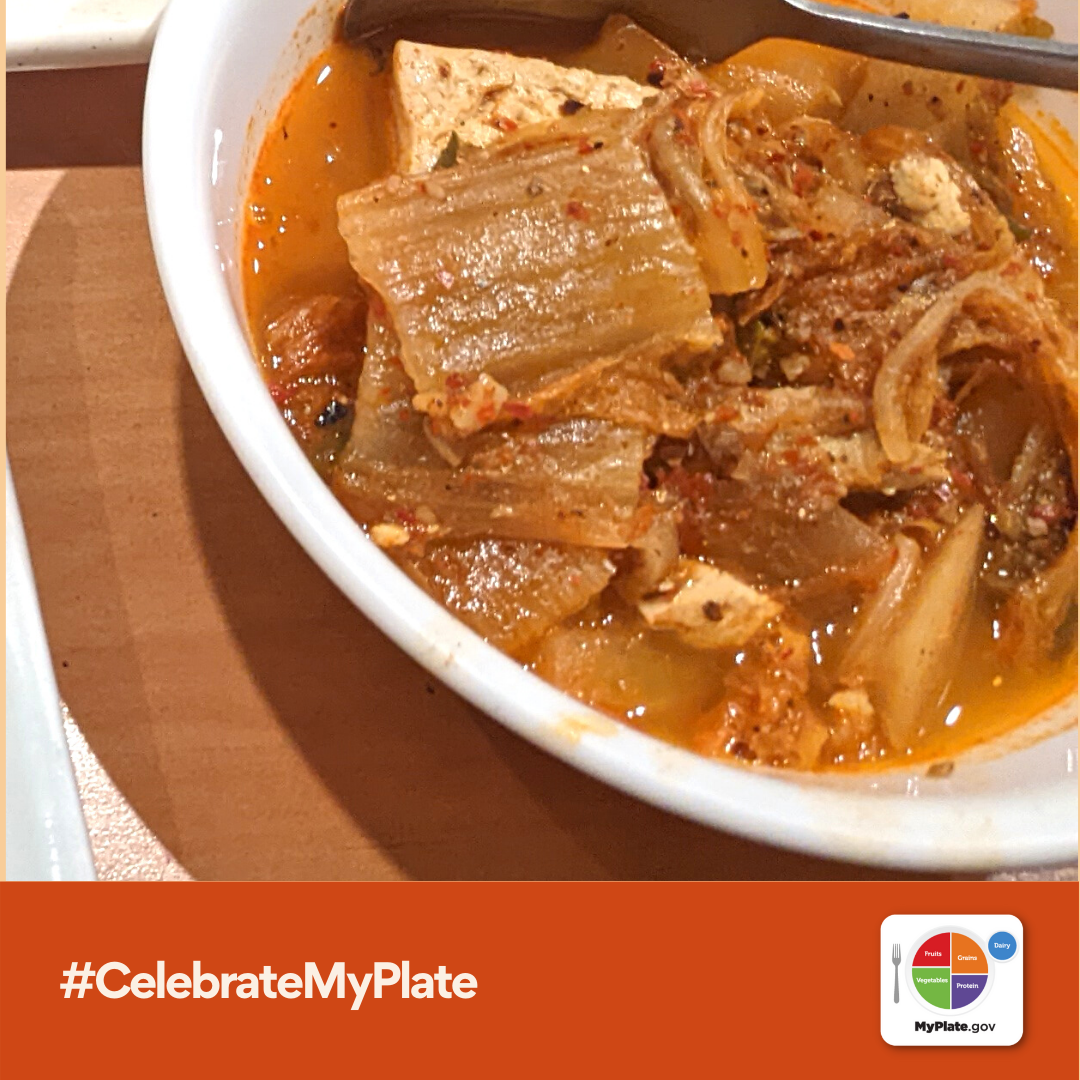 I'm Korean and my parents run a Japanese restaurant, so they serve meals that are a wonderful combination of Japanese and Korean cuisines. Pictured is Korean kimchi stew with fish for a healthy twist.
– Julia, Nutritionist 
Image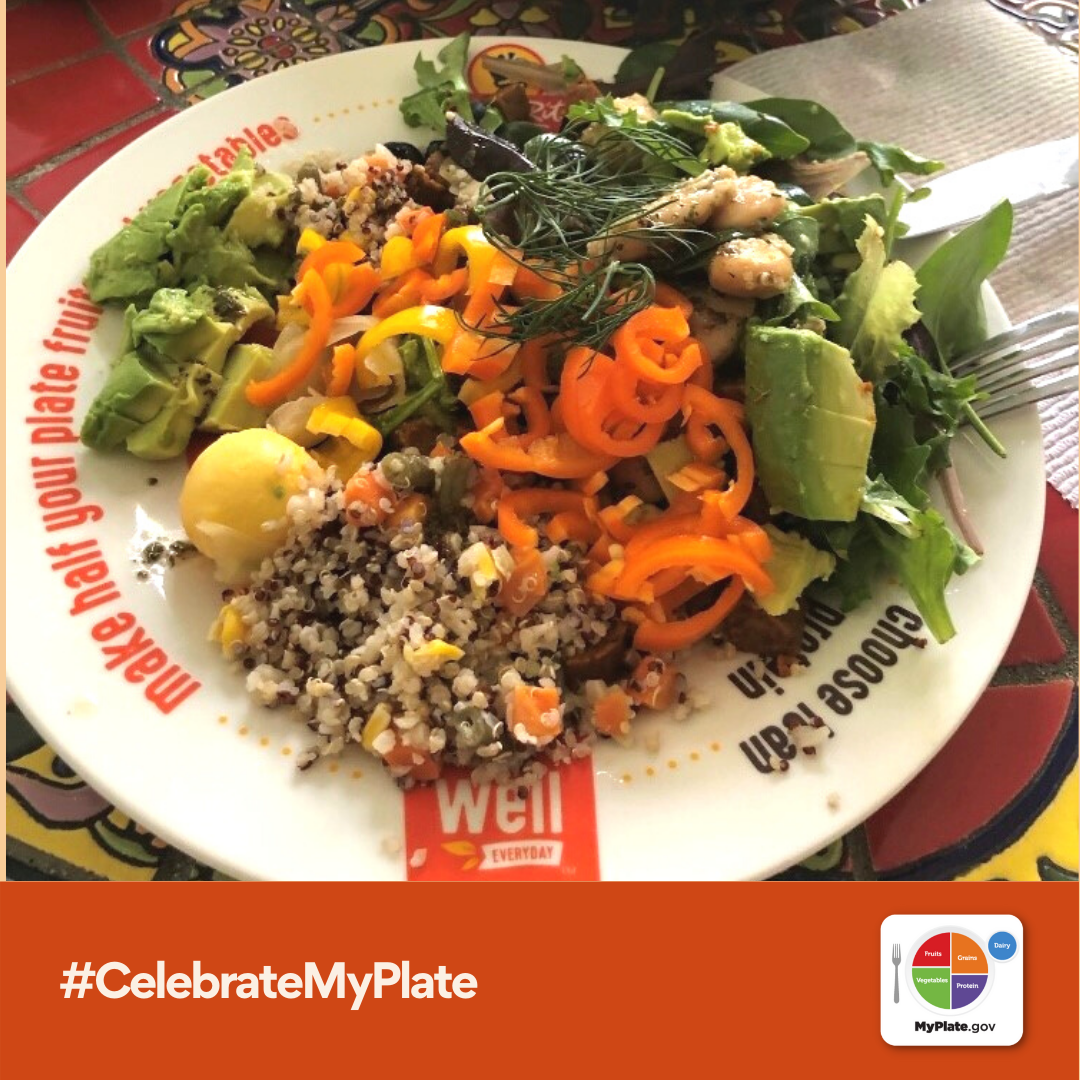 I grew up with a backyard garden and a love for big salads - so mixing salad greens, bell peppers, and tomatoes is just the start. Then, I add beans, a flavorful grain like quinoa, a little avocado for the healthy oils, and some fresh herbs on top.
– Dave, Webmaster
Image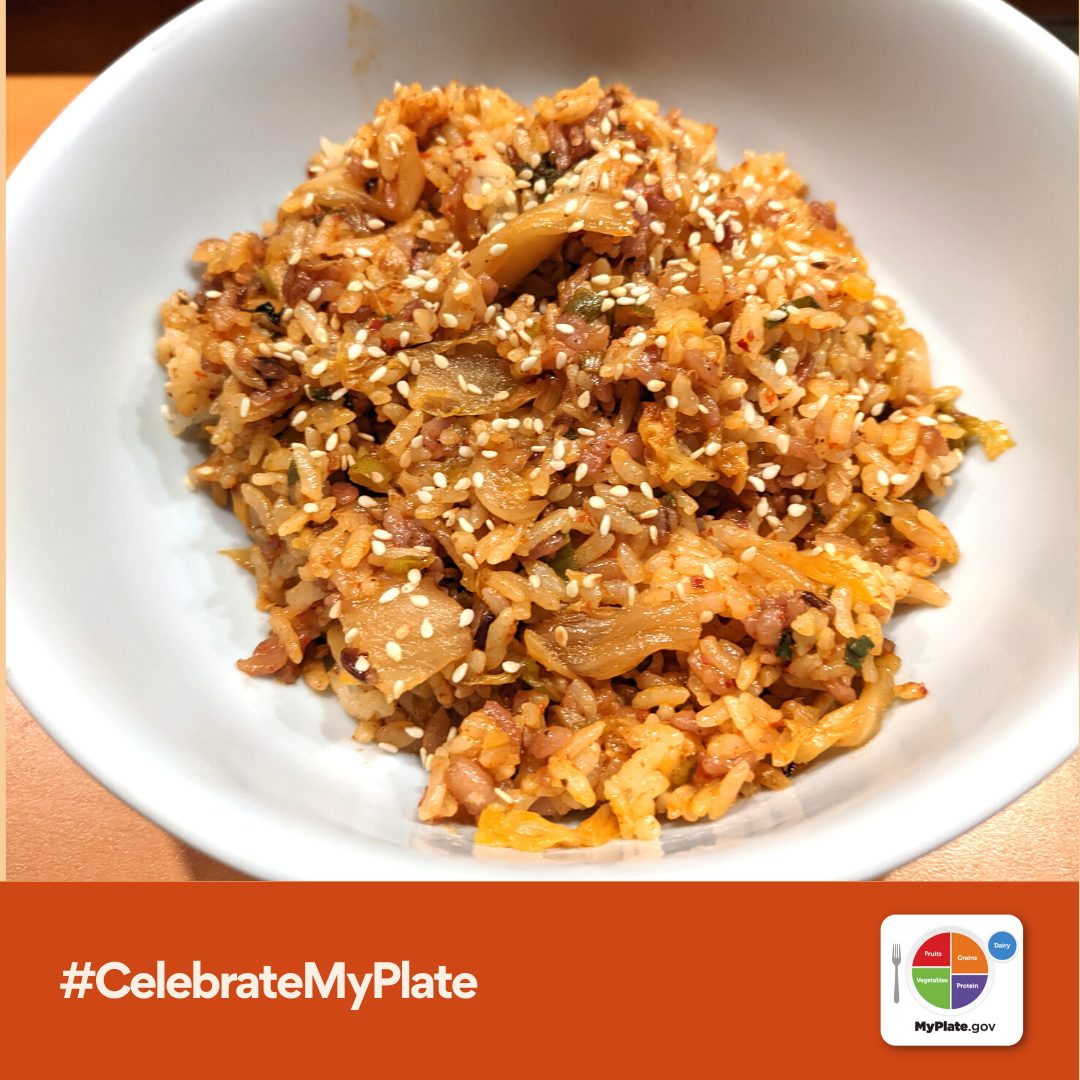 Kimchi fried rice is my perfect weeknight dinner. I start by sautéing "dae-pa" (a big green onion with a deeper flavor than scallions) and adding leftover rice and kimchi then topping it with sesame seeds.  This was also my go-to lunch in grad school because it was easy to make and reheat.
– Julia, Nutritionist
Image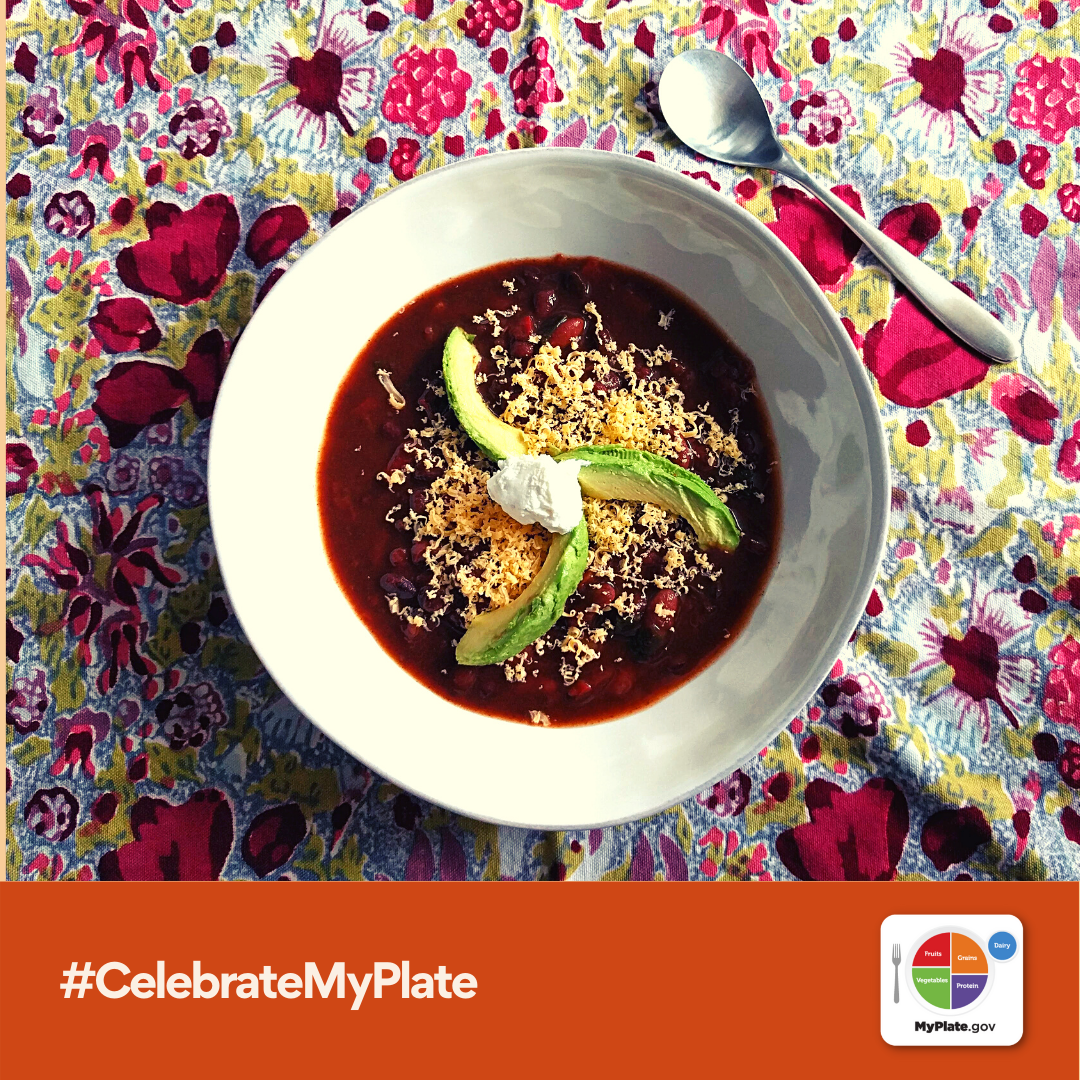 Bean soup is home for me and a staple in most Latin American countries, including Colombia where I'm from. I love beans because they are not only rich in flavor, but they are also a great source of fiber and protein.
– Jo, Nutritionist 
Image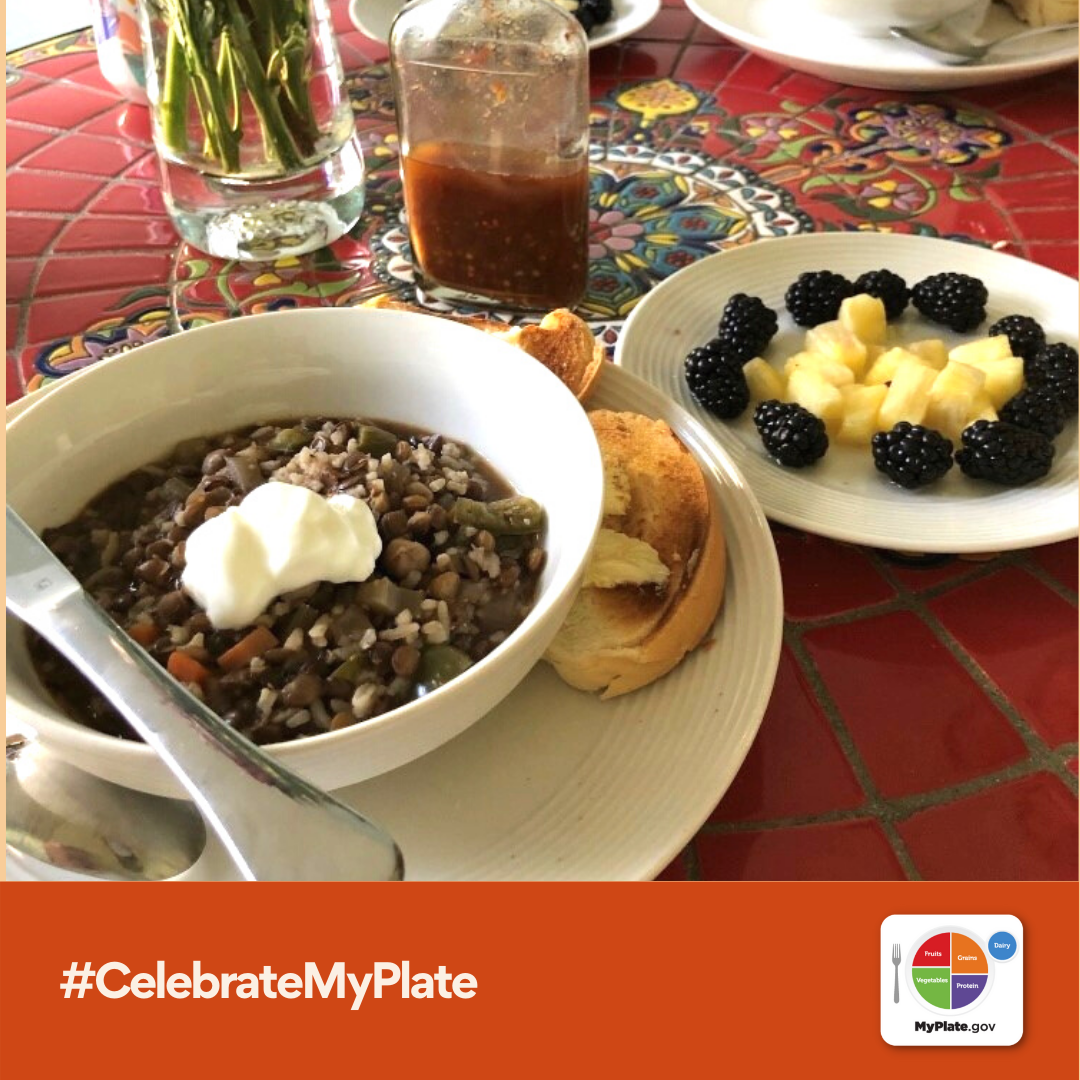 A stew of lentils, rice, veggies, and a dollop of yogurt is a regular meal from our Greek heritage that we have pretty often.
– Corey, Nutritionist 
Image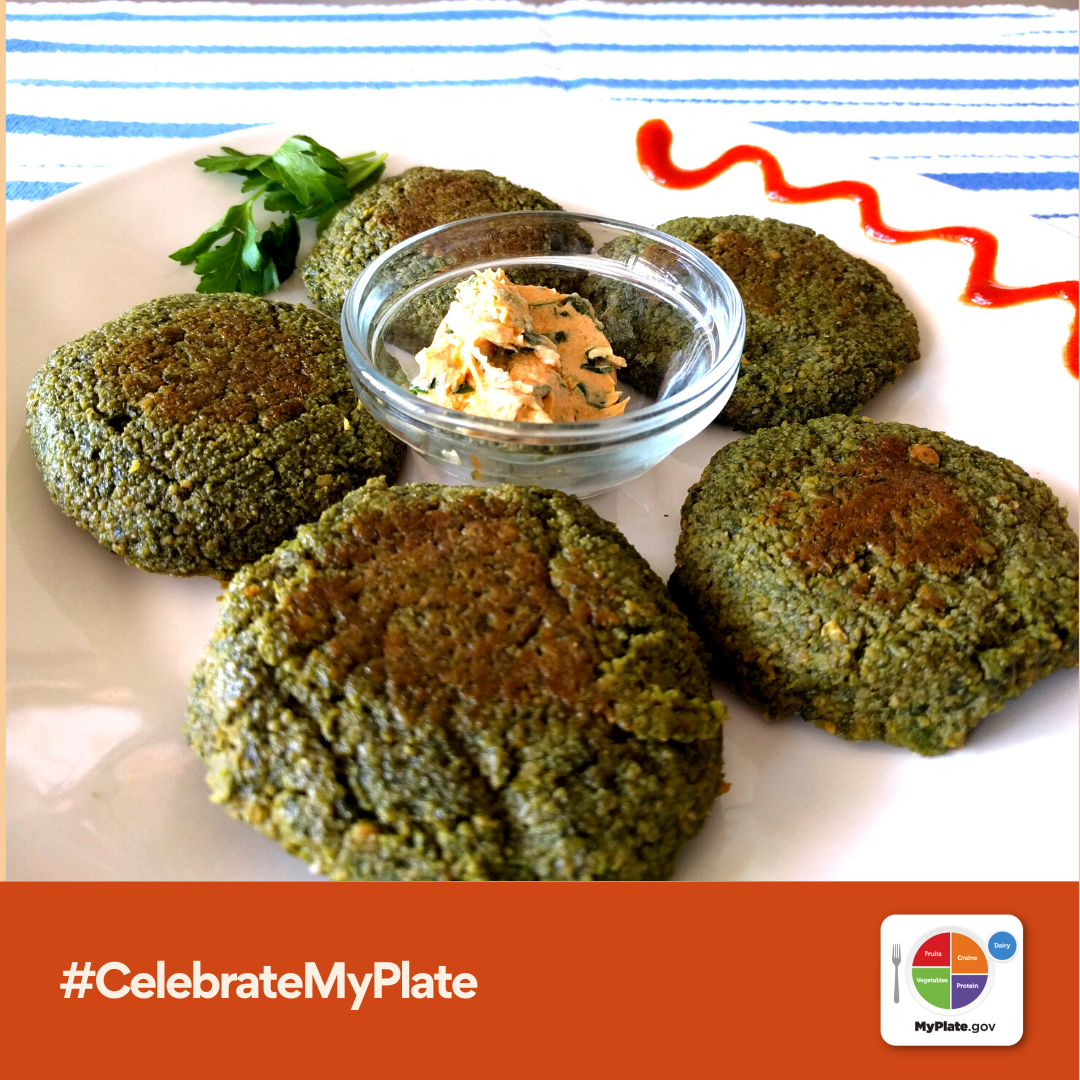 These Middle Eastern baked falafels are made with ground chickpeas and paired with a side of hummus making them a protein powerhouse! I like to add herbs like cilantro and parsley for a nice fresh flavor. These remind me of growing up in London around the corner from a wonderful falafel shop!
– Sue, Management Analyst
Image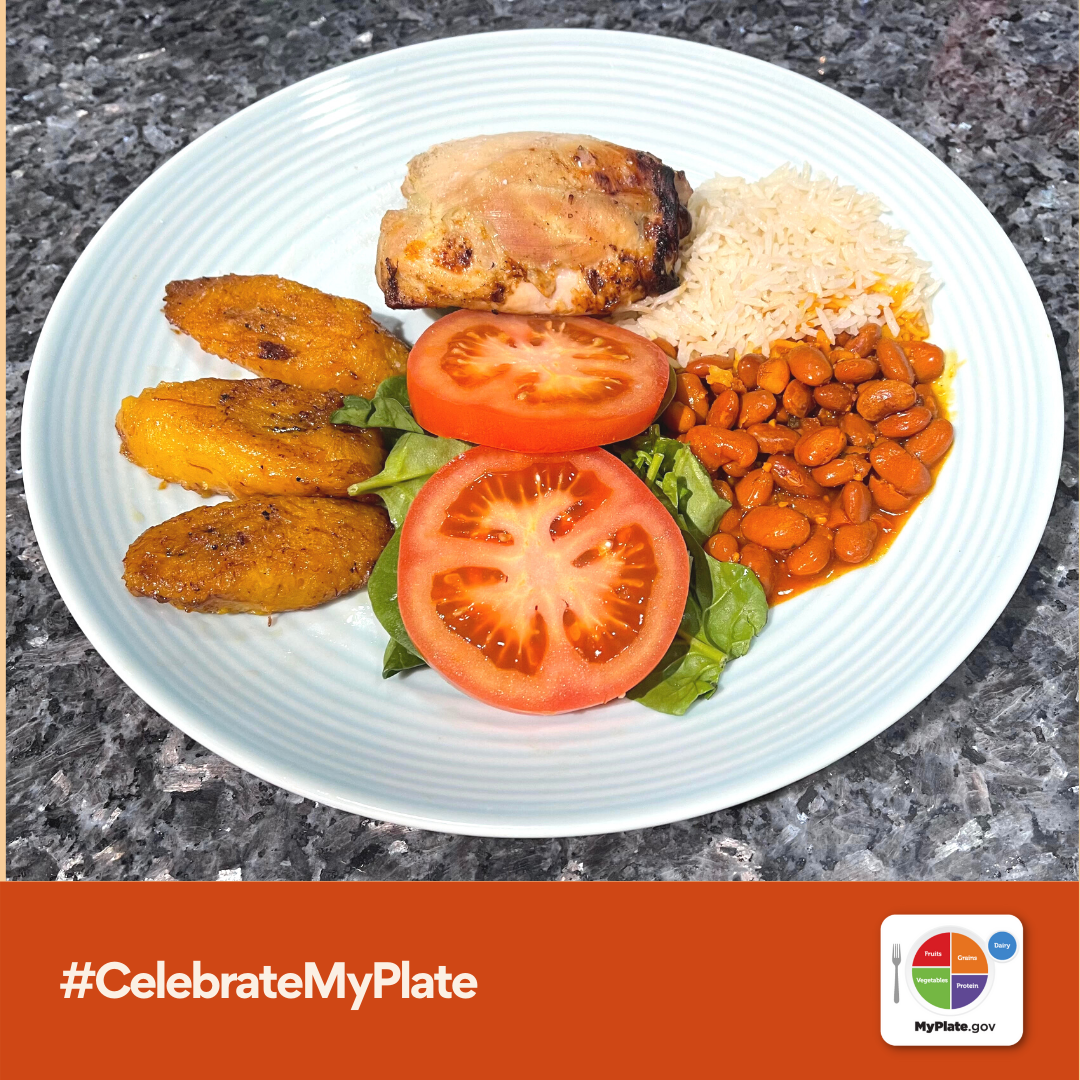 Having chicken, rice, beans and "maduros" (plantains) reminds me of my childhood. My Puerto Rican Grammy would make this meal and many other delicious dishes for me and my two sisters when we would visit her on the weekends. Eating this meal is such a comfort and I love making it for my family.
– Erica, Nutritionist
Image
Making "jiao zi," Chinese dumplings, brings back fun memories of "helping" my mom fold dumplings for family meals. These are "su jiao," vegetable dumplings, and they are delicious steamed and served with a black vinegar-ginger dipping sauce!
– Stephenie, Senior Policy Advisor 
Image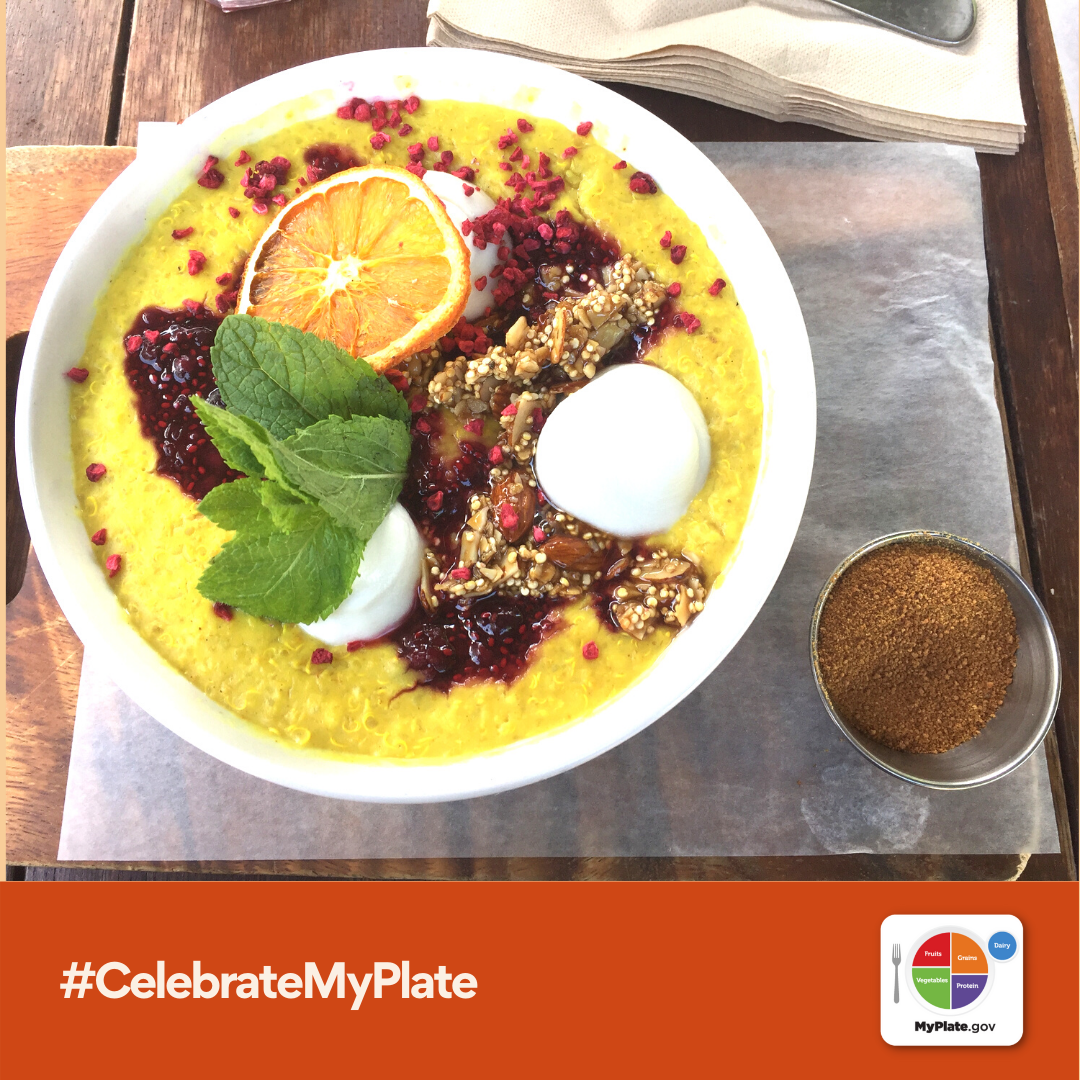 For someone who wasn't raised with strong cultural foodways, I've always been passionate about learning from others. It's helped me think outside the box when cooking for my family. Breakfast is one meal that varies so much between cultures and families. For instance, this turmeric quinoa breakfast bowl from New Zealand combined savory and sweet—and oh so many food groups-in a way that was so surprisingly delicious.
– Meghan, Nutritionist
Image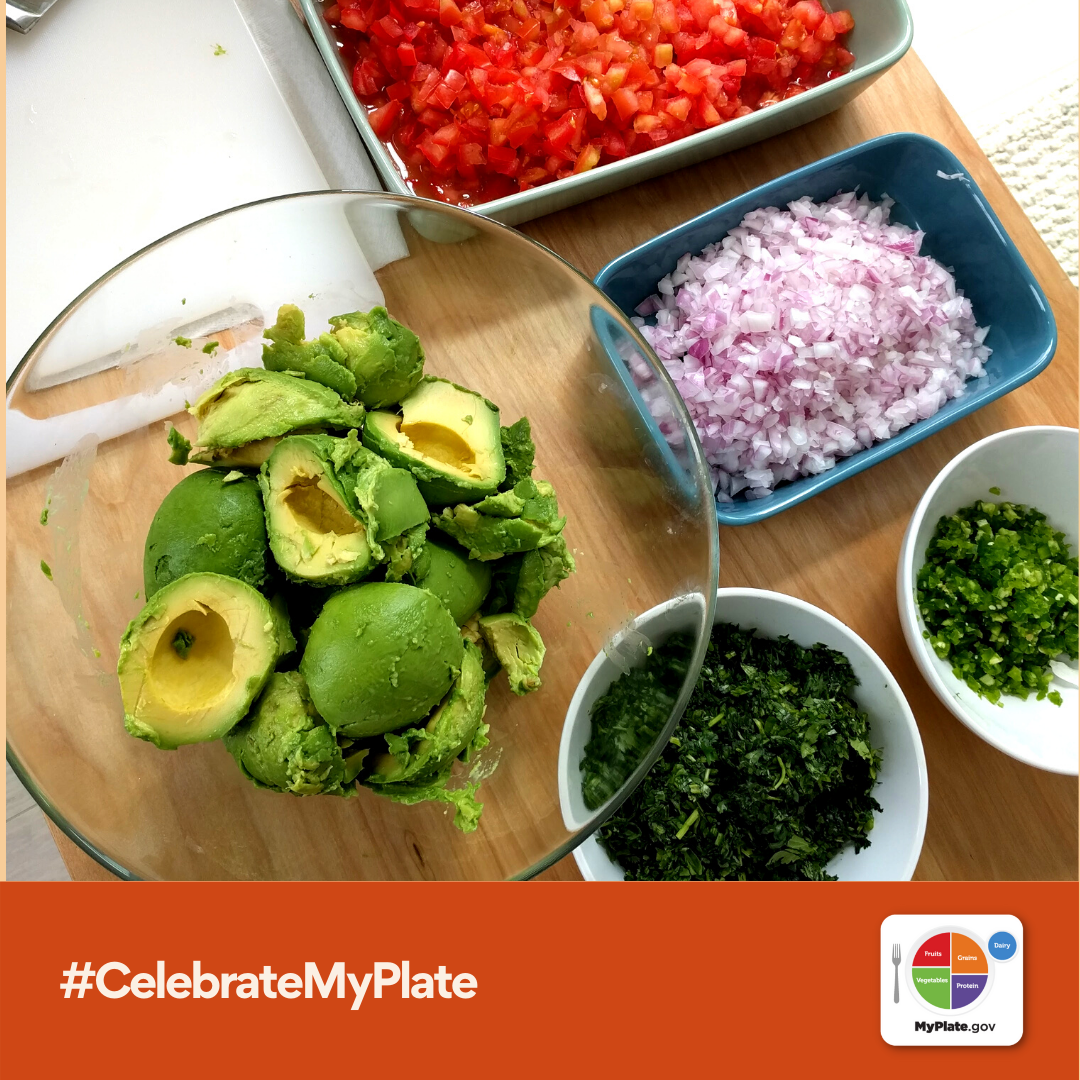 My favorite thing about guacamole is how you can really make it your own by adding any fruit or vegetable. In my Texan family, we make ours with avocados, tomatoes, red onions, cilantro, jalapeños, lime juice, and a pinch of salt. YUM! This is a great addition to a plate of beans and rice, or tacos, or really anything!
– Eve, Staff Director
Image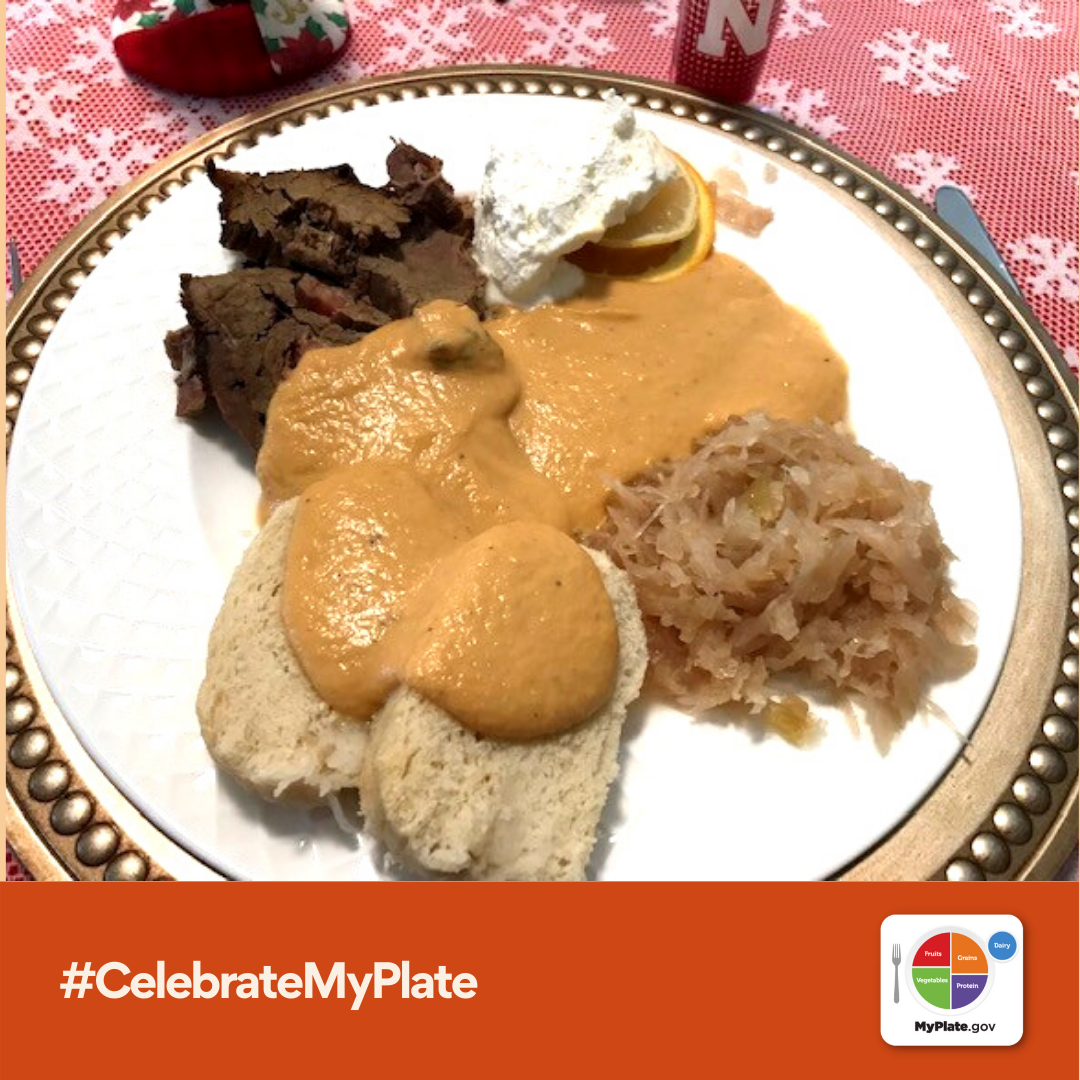 All of my grandparents arrived in the USA from Czechoslovakia in the early 1920's. Growing up, our family ate many traditional Czech foods. "Svíčková" is one of the most popular Czech meals and is served with dumplings and sauerkraut ("knedliky" and "zeli") and garnished with an orange or lemon slice. Since both of my grandmothers ("Babi" in Czech) made this dish many times, we continue this tradition and enjoyed it on special occasions.
– Barb, Nutritionist 
Image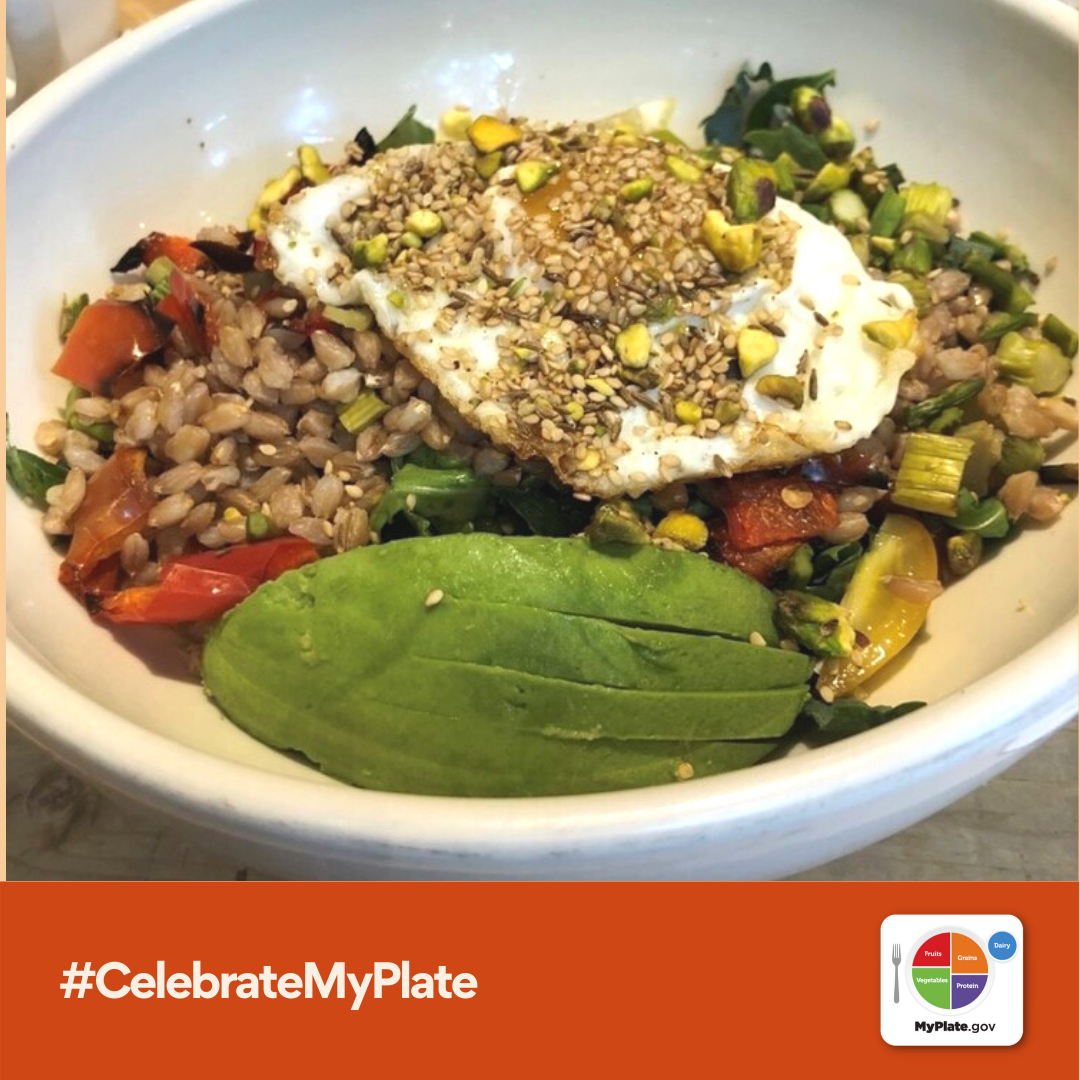 My boyfriend and I recently tried farro at the recommendation of one of his Egyptian relatives and we've incorporated it into many dinners. Just add veggies and a protein for a tasty one-bowl meal.
– Melissa, Nutritionist 
Image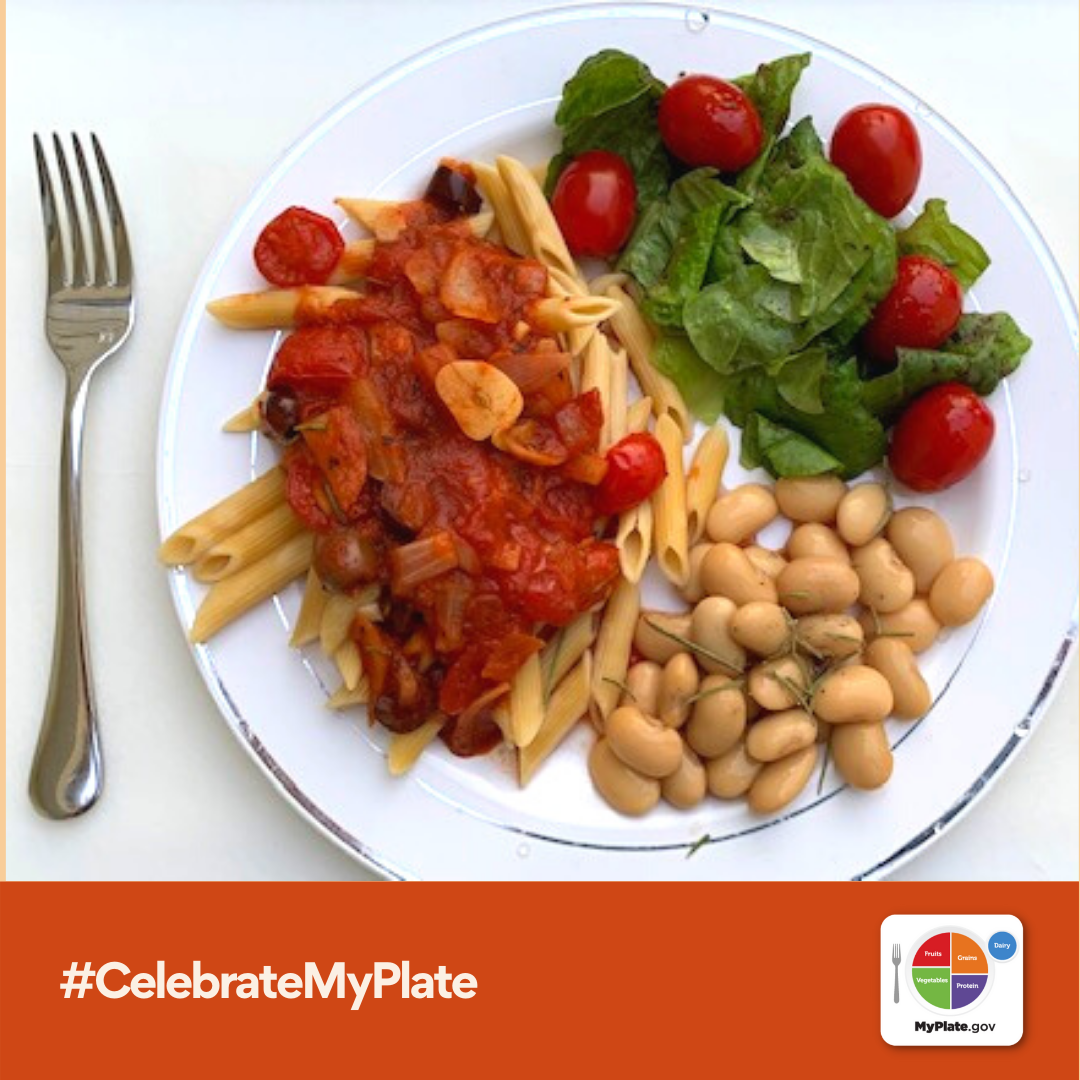 Pasta with a slow-cooked, homemade Italian sauce is something I always enjoyed growing up. As an adult, I have modified the recipe to put my own spin on it -- extra garlic and a generous handful of fresh basil from the garden (or the countertop during the cold months).
– Janie, Visual Information Specialist
Image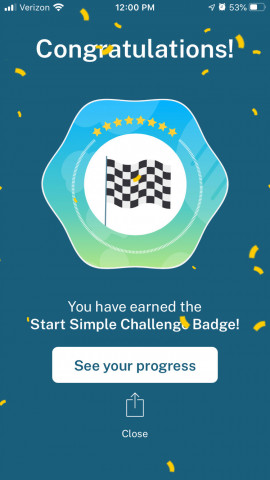 National Nutrition Month® Challenge
Thank you to all that participated in the Start Simple with MyPlate Challenge. To join our next challenge or learn more about how you can start setting small weekly goals, click here.
Image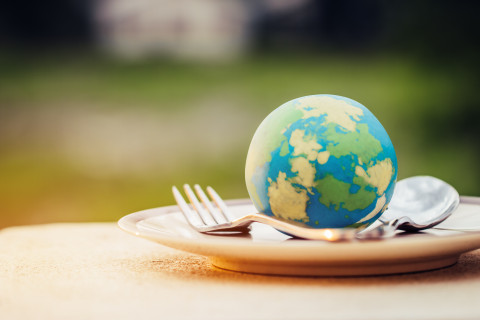 Help spread the word on Facebook and Twitter
Use these sample social media posts to engage others in our National Nutrition Month® campaign
Celebrate National Nutrition Month® with MyPlate. Visit the MyPlate for tools, resources, and more!
March is National Nutrition Month® and the theme is Celebrate a World of Flavors! Join MyPlate and #CelebrateMyPlate with a picture of your cultural meal.
Celebrate the diversity across this great nation by sharing your plate with us. Tag #CelebrateMyPlate to share and see more.