Community and Professional Organizations
MyPlate provides concise messaging and evidence-based tools with actionable steps that enable organizations to reach a wide audience about healthier food and beverage choices. This toolkit provides free, ready-to-use resources for your outreach efforts.
Image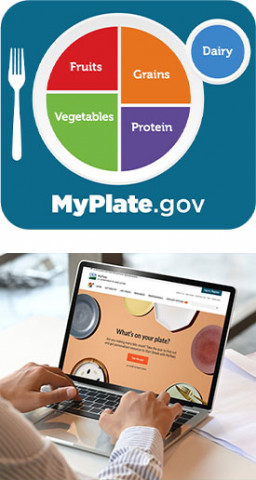 Connect with MyPlate
Based on the Dietary Guidelines, MyPlate encourages consumers to adopt healthy eating habits and routines.
How to Personalize MyPlate
MyPlate is simple, adaptable, and customizable to individual eating routines, cultural foodways and budget needs.
The MyPlate Plan provides individuals with a personalized guide that shows their food group targets, plus what and how much to eat within their calorie allowance.
The MyPlate Quiz helps people compare their eating habits to the MyPlate recommendations and shows where they can make improvements. Their quiz results can also sync with the Start Simple with MyPlate app, a fun tool for helping consumers meet their food group goals.
MyPlate provides resources and tools to improve eating habits.