Recipe Image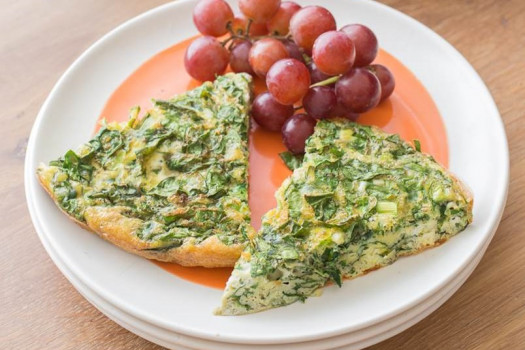 Preparation Time:
15 minutes
Scallions, spinach, and feta cheese are added to this classic oven-baked egg dish. Try substituting cheddar, Swiss, or ricotta cheese for variety.
Ingredients
8 eggs
1/2 teaspoon salt
1/2 teaspoon black pepper
2 cups spinach, finely chopped

(if frozen spinach is used, thaw and squeeze out excess liquid)

4 scallions

(white and green parts chopped into 1/4 inch-pieces)

1/4 cup crumbled feta cheese
2 teaspoons vegetable oil
Directions
Preheat the oven to 350 °F.
Put the eggs, salt, and pepper in the mixing bowl and stir with a fork until well combined.
Add scallions, spinach, and feta cheese and mix well.
Put an 8-inch ovenproof skillet on the stove over medium heat and when hot, add oil.
Pour the egg mixture into the skillet and carefully transfer to the oven. Bake until the eggs are set and the top is golden, about 30 minutes.
Serve right away or cover and refrigerate overnight.
Notes
Source:
USDA Center for Nutrition Policy and Promotion