Recipe Image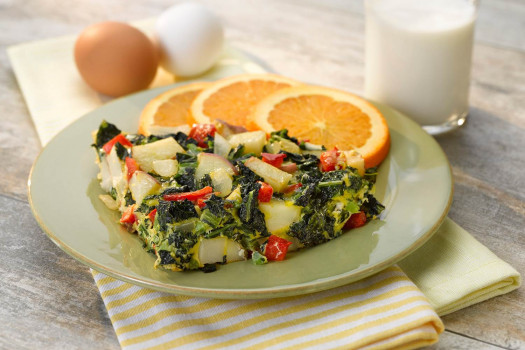 Preparation Time:
25 minutes
This frittata with its blend of colorful vegetables and fresh eggs makes a deliciously nutritious single-dish meal for breakfast, brunch, or supper.
Ingredients
4 large eggs
1/4 teaspoon ground black pepper
1/4 teaspoon salt
2 medium unpeeled red potatoes
1/2 tablespoon olive oil
4 cups Italian kale, or other kale variety
1/4 cup chopped onion
1/2 red bell pepper

(chopped)
Directions
Beat eggs, pepper, and salt in large bowl; set aside.
Microwave potatoes until slightly soft, but not completely cooked; then cube. (Alternate method without microwave: Cube potatoes and boil 5 minutes until slightly soft; then drain.)
Chop remaining vegetables while potatoes cool. Mix vegetables together.
Heat oil in a 10-inch non-stick skillet. Sauté vegetables for 5 to 8 minutes; add to eggs and mix well.
Pour egg-vegetable mixture into the same skillet. Cook over low to medium heat until eggs are almost set, about 8 to 10 minutes.
Cover and let sit until eggs are completely set, about 5 minutes. Egg dishes should be cooked to 160 ºF.
Notes
Serving Suggestions: Serve with 8-oz glass of fat-free (skim) milk and 1/2 sliced orange.
Learn more about:
Source:
Produce for Better Health Foundation