Grilled Pineapple Ginger Glazed Chicken with Zucchini and Peppers
Recipe Image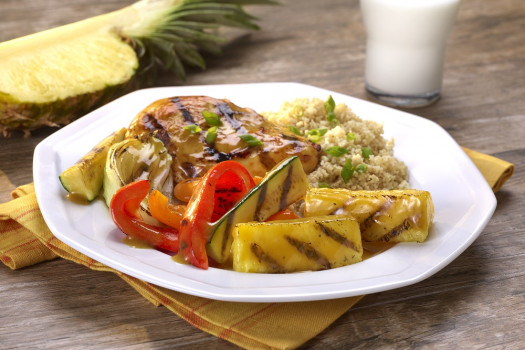 Preparation Time:
45 minutes
Fresh pineapple chunks and an easy glaze made with pineapple juice add tropical and zingy flavors to grilled chicken.
Ingredients
Pineapple Ginger Glaze
1 1/2 cups pineapple juice

(12-ounce bottle)

1/4 cup apple cider vinegar
3 tablespoons brown sugar
1 1/2 tablespoons light soy sauce
1 tablespoon minced ginger
1 tablespoon Dijon mustard
1 cup whole wheat couscous, dry
1 pound chicken breast, boneless, skinless

(cut into 4 portions)

1 tablespoon olive oil
1/8 teaspoon salt
1/4 teaspoon pepper
1 sweet yellow onion

(cut into wedges)

2 large zucchini

(cut into chunks)

1 red pepper

(cut into 8 strips)

1 orange pepper

(cut into 8 strips)

8 pineapple spears

(2-1/2 x 1-1/4 inch, about 1 ounce each)

1 green onion, sliced
Directions
To make the glaze, combine pineapple juice, vinegar, brown sugar, soy sauce, ginger and mustard in a medium saucepan set over medium-high heat.
Bring to a boil; boil for about 15 minutes.
Preheat grill to medium heat. Cook couscous according to package directions.
While couscous is cooking, toss chicken breast with oil, salt and pepper.
Grill chicken, for 2 minutes per side or until grill-marked. Continue to grill, basting and turning with Pineapple Ginger Glaze, for 5 to 6 minutes or until cooked.
Grill onion, zucchini, red pepper, orange pepper and pineapple spears, basting with Pineapple Ginger Glaze, for 3 to 5 minutes or until grill-marked and tender.
Serve chicken with vegetables and pineapple over couscous.
Garnish with green onions.
Notes
Serve with 8 ounces non-fat milk.
Learn more about:
Source:
Produce for Better Health Foundation