Peanut Butter Banana Smoothie
Recipe Image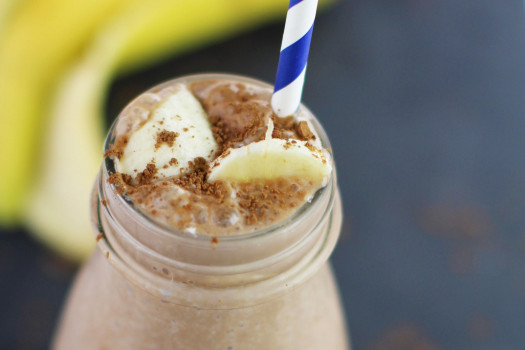 This delicious blend of milk, yogurt, bananas, and peanut butter makes for a filling breakfast on-the-go. Cocoa powder lends a touch of sweet that also hits the spot as an afternoon snack.
Ingredients
2 bananas

(ripe, frozen)

1 cup skim milk
1 1/2 tablespoons creamy peanut butter
1/2 tablespoon unsweetened cocoa powder
1/2 cup low fat vanilla yogurt
1 1/2 cups ice
Directions
Peel bananas, chop into small pieces and place in freezer until hard.
Gather all ingredients and put all ingredients in a blender.
Blend on high until smooth.
Pour into 2 glasses. Serve right away.
Source:
USDA Center for Nutrition Policy and Promotion