Apple Salad with Sweet & Tangy Yogurt Dressing
Recipe Image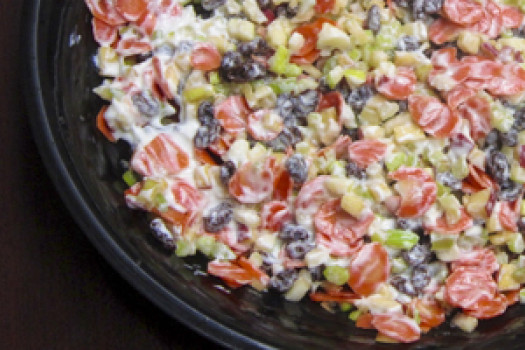 Crisp, light, and refreshing, this salad combines apples, celery, carrots, raisins, and a yogurt dressing.
Ingredients
1 cup diced apple
1 teaspoon lemon juice
1/2 cup diced celery
1/2 cup grated carrots
1/2 cup raisins
1/2 cup yogurt, low-fat vanilla
Directions
Wash hands with soap and water. 
Wash apples, celery, and carrots before dicing/grating.
Toss apples with lemon juice.
Add celery, carrots and raisins.
Fold yogurt into apple mixture.
Cover. Chill for at least 1 hour before serving.
Refrigerate leftovers.
Notes
Source:
Eating Smart, Being Active
Colorado State University and University of California at Davis