Recipe Image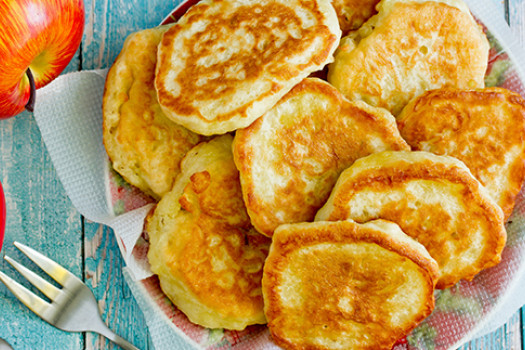 Keep a batch of these pancakes in the freezer for those busy mornings when you need a quick breakfast. Just pop them in the microwave or toaster, and enjoy.
Ingredients
1 cup applesauce
1/4 cup dry milk powder, non-fat instant
1 cup water
2 eggs
1 tablespoon canola oil
2 cups all-purpose flour
2 tablespoons sugar
1/2 teaspoon cinnamon
2 teaspoons baking powder
Directions
Wash hands with soap and water and clean food preparation area.
In a medium mixing bowl, combine applesauce, dry milk powder, water, eggs, and oil.
Add flour, sugar, cinnamon, and baking powder.
Stir until mixture has only small lumps.
Place large skillet on medium-high heat.
Spray skillet with non-stick cooking spray.
Pour 1/2 cup batter onto skillet.
Turn pancake when bubbles form on top of batter.
Cook the other side for about 1 minute or until golden brown.
Source:
Tennessee State University Cooperative Extension Service