Argentinian Chimichurri Sauce
Recipe Image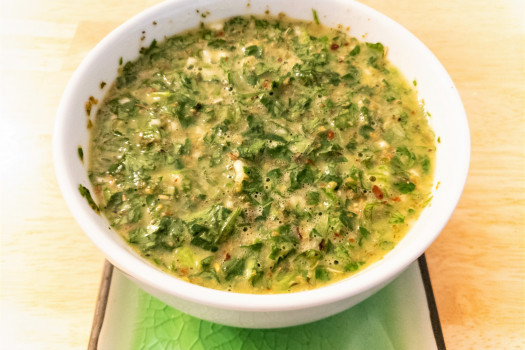 Add some South American flair to your meal with this flavorful sauce, which can be used on meat, fish, or vegetables as a marinade or poured over your finished product.
Ingredients
1 cup flat-leaf parsely

(lightly packed and chopped without the stalks)

4 garlic cloves

(minced)

1/8 teaspoon salt
1/4 teaspoon peppercorn

(freshly ground)

1/2 teaspoon chili pepper flakes
1 tablespoon oregano

(dried)

2 tablespoons green onion

(minced)

1/2 cup olive oil
3/4 cup vinegar
3 tablespoons lemon juice

(fresh)

1/4 cup water
Directions
Wash hands with soap and water.
Place all the ingredients in a blender or food processor and pulse until well chopped, but not pureed.
Spoon the sauce over grilled meats, poultry, seafood, or vegetables. This sauce can also be used as a marinade.
Source:
Delicious Heart-Healthy Latino Recipes/ Platillos Latinos Sabrosos y Saludables
US Department of Health and Human Services
National Heart, Lung, and Blood Institute