Asparagus with Gremolata Sauce
Recipe Image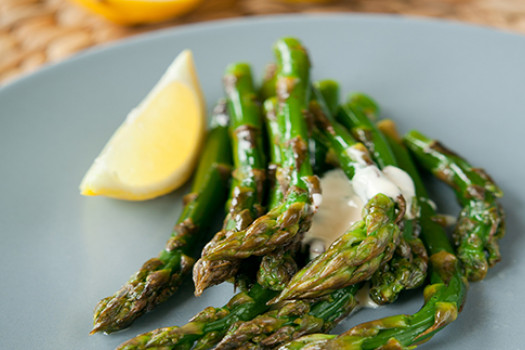 Asparagus has folate, fiber, as well as vitamins A, C, E, and K. It also has antioxidants, so treat yourself to this dish knowing that you are feeding your body with some important nutrients.
Ingredients
2 cups asparagus

(washed and trimmed)

2 tablespoons margarine, unsalted

(or butter)

2 teaspoons lemon peel

(grated)

1 garlic clove

(large, minced)

2 tablespoons lemon juice

(fresh)
Directions
Wash hands with soap and water.
Cook asparagus in a large pot of boiling water until tender, about 4 minutes.
Drain: rinse with cold water to cool quickly, and drain again.
Pat dry; wrap in a paper towel and then plastic wrap and refrigerate.
Melt margarine in a heavy large skillet over medium-high heat.
Add lemon peel and garlic and stir for 30 seconds.
Add asparagus and toss to coat.
Sprinkle with lemon juice. Sauté until asparagus is heated through and coated with Gremolata sauce, about 3 minutes.
Transfer to platter. Sprinkle with parsley and serve.
Source:
Eat Smart New York!
Cornell University Cooperative Extension