Recipe Image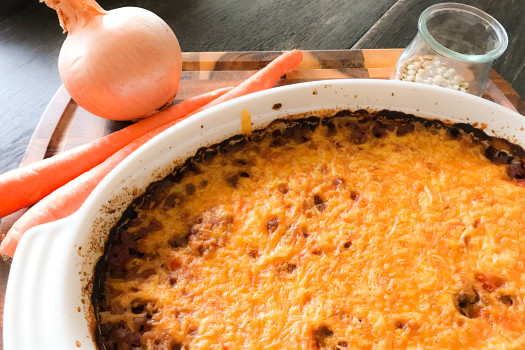 Baked lentils, vegetables, and cheese make a complete vegetarian dinner in one dish.
Ingredients
1 cup lentils

(rinsed)

3/4 cup water
1/2 teaspoon salt
ground black pepper

(1/4 teaspoon, optional)

1/2 cup onion

(chopped)

garlic powder

(1/4 teaspoon, optional)

1 can tomatoes, low-sodium

(14.5 ounces)

2 carrots

(thinly sliced)

1/2 cup cheddar cheese

(shredded)
Directions
Wash hands with soap and water.
Combine lentils, water, seasonings, onion, and tomatoes.
Place in 2 quart casserole dish.
Cover tightly with lid or foil.
Bake at 350 °F for 30 minutes.
Remove from oven and add carrots. Stir.
Cover and bake 30 minutes longer.
Remove cover and sprinkle cheese on top.
Bake, uncovered 5 minutes, until cheese melts.
Source:
Let's Make Meatless Meals
University of Wisconsin Cooperative Extension Service