Recipe Image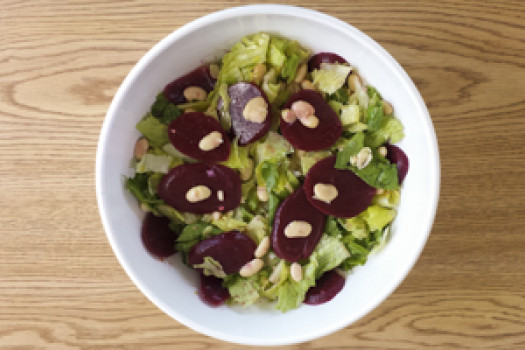 This salad is full of protein and nutrients thanks to its bright beets and cooked beans.
Ingredients
1/4 cup lemon juice (or vinegar)
1 garlic clove, finely chopped
2 teaspoons mustard
salt and pepper (optional)

(to taste, optional)

2 tablespoons vegetable oil
2 cups sliced cooked beets (can use canned or fresh)
1 head of lettuce (washed and torn into pieces)
2 cups cooked beans, rinsed (any kind)
Directions
1. To make dressing, combine lemon juice, garlic, mustard, oil, salt and pepper (optional) in a large bowl.
2. Place the sliced beets in a small bowl. Toss 1 Tablespoon of the dressing with the beets to coat.
3. Toss the greens and beans with the remaining dressing in the large bowl.
4. Place onto plates and top with beets.
 
Source:
University of Maryland Cooperative Extension
Food Supplement Nutrition Education Program