Berries with Banana Cream
Recipe Image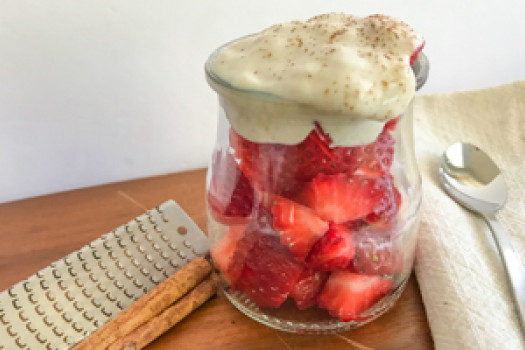 Make your own "banana cream" with yogurt, banana, and fruit juice. Then, add on top of fresh sliced strawberries for a delicious dessert or snack. Add honey and cinnamon for extra flavor.
Ingredients
1/3 cup yogurt, low-fat plain
1/2 banana

(ripe)

1/2 ounce fruit juice

(orange works well)

2 cups sliced strawberries
1 teaspoon honey
1/8 teaspoon cinnamon
Directions
Wash hands with soap and water.
Combine yogurt, banana, and juice and mash with a fork until most chunks are gone.
Wash and slice strawberries.
Top the berries with the yogurt banana mixture.
Top with honey and cinnamon.
Source:
Iowa Department of Public Health
Iowa Nutrition Network