Black Bean and Sweet Potato Quesadillas
Recipe Image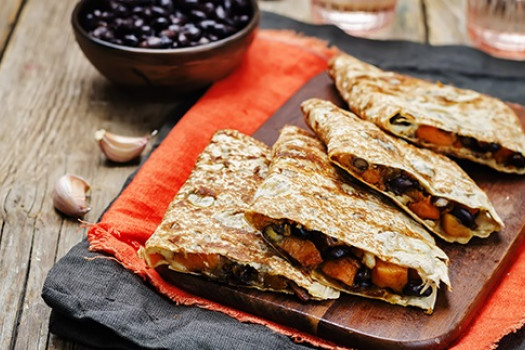 Enjoy a simple twist on the classical quesadilla. These quesadillas can be served as a tasty lunch, dinner, or side dish.
Ingredients
nonstick cooking spray
1 medium sweet potato

(cooked and cut into pieces)

1 cup black beans, canned
1 small onion
1 clove garlic
1 1/2 teaspoons ground cumin
1 1/2 teaspoons paprika
1/2 large chili pepper
2 tablespoons sour cream, low-fat OR reduced fat plain yogurt
8 whole wheat tortillas
1/4 cup cheddar cheese, reduced-fat
1/2 cup baby spinach
Directions
Sauté onion and garlic (using nonstick cooking spray) in a medium size pan until soft.

Add sweet potatoes, black beans, spices, and jalapeno.

Heat until just warm.

Spread potato mixture over tortilla, then top with baby spinach, cheese, and onion.

Top with second tortilla.

Heat a pan on high heat and spray with nonstick cooking spray.

Brown quesadilla about one minute on each side until the inside is warm and the cheese is melted.
Source:
Bronson Wellness Center
Bronson Healthcare - Michigan