Recipe Image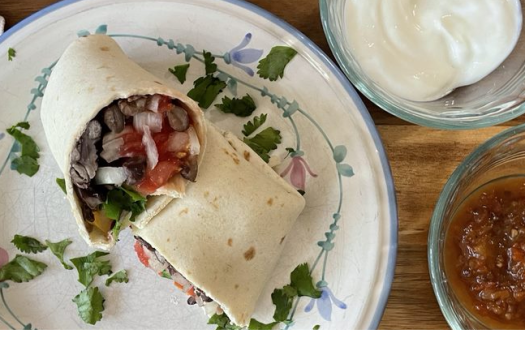 The protein and fiber in this bean, vegetable, and yogurt breakfast burrito make great additions to your morning meal.
Ingredients
1 1/3 cups black beans

(cooked, mashed (or low-soodium canned) or use canned vegetarian refried beans)

1 teaspoon canola oil
4 tortillas, corn
2 tablespoons onion

(chopped)

1/2 cup tomatoes

(chopped)

1/2 cup fresh tomato salsa
4 tablespoons yogurt, non-fat plain
2 tablespoons cilantro

(chopped)
Directions
Wash hands with soap and water.
Mash beans with canola oil and mix with onion and tomatoes.
Microwave tortillas between the two sheets of slightly damp white paper towels on high for 15 seconds.
Divide bean mixture between the tortillas.
Fold each tortilla to enclose filling.
Place on microwave-safe dish and spoon salsa over each burrito.
Microwave on high for 15 seconds.
Serve topped with yogurt and cilantro.
Source:
Healthy Recipes
Michigan Department of Community Health