Recipe Image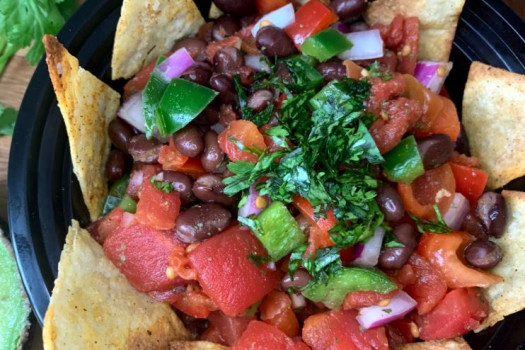 Preparation Time:
15 minutes
This salsa uses fresh and canned vegetables that are available year-round and add flavor and beautiful color. Kids and grown-ups alike can't resist how good it tastes and smells.
Ingredients
1 can (15.5 oz) black beans (drained and rinsed)

(low-sodium)

1 green bell pepper

(diced)

1 red bell pepper

(diced)

1 onion

(diced)

2 cans diced tomatoes, drained

(low-sodium, 14.5 ounces)

2 cloves garlic

(diced)

2 teaspoons ground cumin
1 teaspoon dried cilantro
3 tablespoons rice vinegar

(can use other vinegar such as red wine vinegar or apple cider vinegar)
Directions
Wash hands with soap and water.
Drain and rinse beans.
Put beans and tomatoes into large mixing bowl.
Dice peppers, onion, and garlic. Add to mixing bowl.
Mix cumin, cilantro, and vinegar. Pour on top of beans and vegetables.
Stir well. 
Notes
Serve with baked whole grain tortilla chips.
Learn more about:
Source:
Cornell University Cooperative Extension