Recipe Image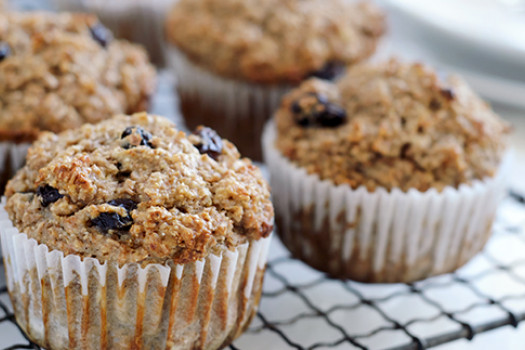 Looking for a creative way to cook with breakfast cereal? Look no further than this recipe.
Ingredients
5 cups flour
2 teaspoons salt
2 teaspoons baking soda
3 cups sugar
8 cups raisin bran

(about 15 oz)

4 eggs

(beaten)

4 cups buttermilk
1 cup oil
vegetable oil spray

(or oil)
Directions
Measure flour into 1-gallon container.
Add salt, soda, sugar and raisin bran to the flour and mix well with spoon.
With a spoon make a "well" in the center of the dry ingredients.
In the medium size bowl, beat the eggs with a fork until whites and yolk are evenly blended.
Add milk and oil to eggs. Beat with fork.
Add liquid to dry ingredients. Stir until dry ingredients are moistened (mixture will be lumpy).
Lightly oil the bottoms of the paper cups in the muffin pan (or use muffin cups). Fill the muffin cups to 3/4 full.
Bake at 425 °F for 15-20 minutes.
Baked muffins can be frozen for future use.
Source:
Quick and Healthy Meals: Tips and Tools for Planning Meals for Your Family
Ohio State University Cooperative Extension
Cuyahoga County