Brussel Sprouts, Cranberry, and Bulgur Salad
Recipe Image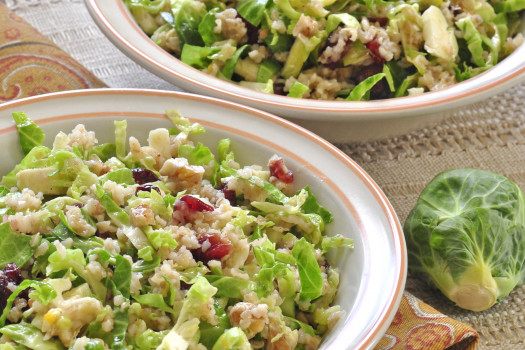 Preparation Time:
45 minutes
Step up your salad game with this delicious dish, perfect for a gathering of friends or an easy lunch. Try substituting sunflower or pumpkin seeds for a nut-free option.
Ingredients
1/3 cup dried bulgur
1 cup boiling water
2 cups Brussels sprouts (1/2 pound)
1/2 cup dried cranberries
1/4 cup chopped nuts (any type)
1/4 cup orange juice
2 tablespoons vegetable oil
2 tablespoons vinegar
1/4 teaspoon salt
1/4 teaspoon black pepper
Directions
Wash hands with soap and water.
Cover bulgur with boiling water and let stand until soft, about 30 minutes. Pour off any excess water.
Rinse and trim Brussels sprouts. Cut in half lengthwise then slice crosswise into thin strips.
In a large bowl combine bulgur, Brussels sprouts, cranberries and nuts.
In a small bowl or jar with a lid, combine orange juice, oil, vinegar, salt and pepper. Mix or shake well. Pour dressing over salad and serve.
Notes
No nuts? Use sunflower or pumpkin seeds.
No dried cranberries? Use any type of dried fruit.
Learn more about:
Source:
Food Hero
Oregon State University Cooperative Extension Service