Carrots with Tomatoes and Macaroni
Recipe Image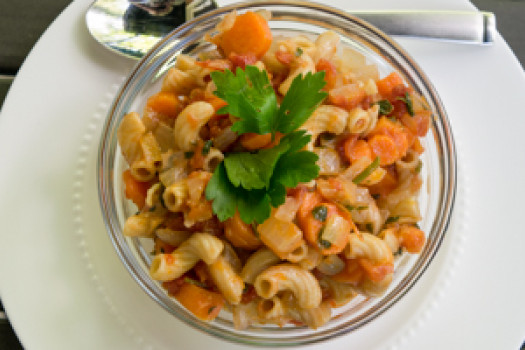 Each serving of this delicious and quick pasta dish provides 1 1/2 cups of veggies.
Ingredients
1 tablespoon olive oil
1 onion

(small, chopped)

4 plum tomatoes

(chopped)

1/2 cup tomato juice, low-sodium

(from a can)

6 carrots

(large, peeled and sliced)

1/4 teaspoon salt
1/4 teaspoon black pepper
1/4 teaspoon sugar
2 tablespoons fresh parsley

(chopped, or 1 teaspoon dried)

1 teaspoon butter
1 cup elbow macaroni, cooked
Directions
Wash hands with soap and water.
In a saucepan, cook the onion in the oil until soft but not brown. Add the tomatoes, carrots, salt, pepper, and sugar.
Cover and cook over low heat for 5 minutes. Remove the cover and cook over low heat, stirring often, for another 5 minutes, or until the carrots are tender and the tomatoes are cooked down to a sauce.
Stir in the parsley. Mix the butter with the cooked elbows. Stir in the carrot mixture and serve.
Source:
University of Rhode Island Cooperative Extension
Expanded Food and Nutrition Education Program