Recipe Image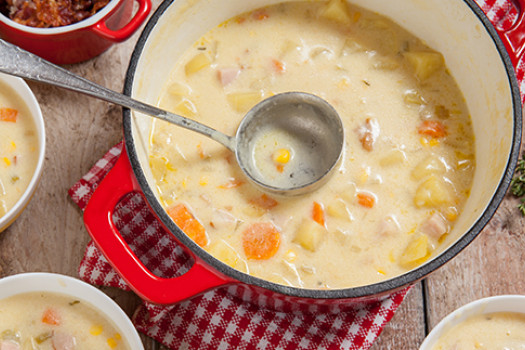 This is a hearty vegetarian soup for a filling and healthy meal on a chilly night. If you have leftovers that have been properly handled, you can add ham, chicken, or other meat for more protein.
Ingredients
2 cups potatoes

(diced)

1 cup carrot

(sliced)

1 cup celery

(chopped)

1/2 cup onion

(chopped)

1/4 teaspoon black pepper
1 can (14.75 ounce) cream-style corn, low-sodium
1 1/2 cups milk, non-fat
1/2 cup cheddar or American cheese

(shredded)
Directions
Wash hands with soap and water.
Combine potatoes, carrots, celery, onion and seasonings in pan. Add 1 cup water. Cover and simmer 10 minutes.
Add corn and pepper. Cook 5 more minutes or until vegetables are cooked.
Add milk and cheese. Stir until cheese melts and chowder is heated through. Do not boil.
Serve hot.
Notes
Source:
Montana State University Extension Service
Nutrition Education Program