Chili and Spice Seasoning
Recipe Image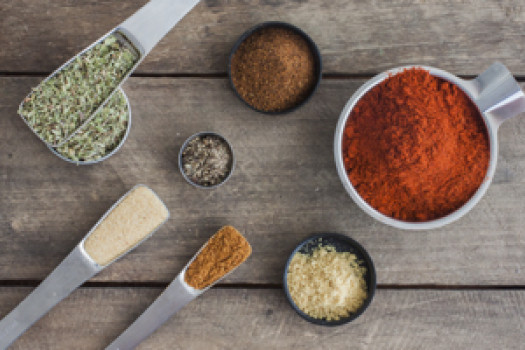 A combination of zesty herbs and spices add flavor without adding salt. Make this seasoning mix ahead of time and keep it in your pantry to use in soups, stews, sauces, casseroles, and more!
1 serving = 1 Tablespoon
Ingredients
1/4 tablespoon paprika
2 tablespoons oregano

(dried, crushed)

2 teaspoons chili powder
1 teaspoon garlic powder
1 teaspoon black pepper
1/2 teaspoon cayenne pepper
1/2 teaspoon dry mustard
Directions
Wash hands with soap and water.
Mix together all ingredients.
Store in airtight container.
Source:
A Healthier You: Based on the Dietary Guidelines for Americans
US Department of Health and Human Services
Office of Disease Prevention and Health Promotion